Jens Anso MONTE CARLO, Slip-Joint Folding Knife, Upgraded Bronze Scales (SOLD)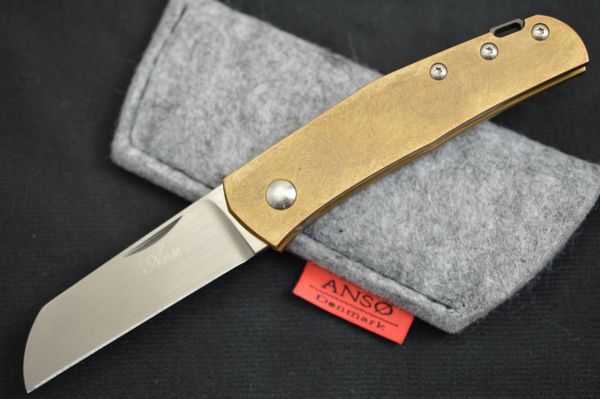 Jens Anso MONTE CARLO, Slip-Joint Folding Knife, Upgraded Bronze Scales (SOLD)
The Jens Anso Monte Carlo is a slip-joint folder that features a non-locking blade and nail nick opener, in a size that allows this knife to be carried just about anywhere, regardless of knife laws.  However, that being said, it is incumbent upon the purchaser to know their own state's knife laws.  The knife features a hand rubbed, flat ground, RWL-3D stainless steel Sheepsfoot-shaped blade, 3D milled titanium pocket clip, and titanium backspacer with integral lanyard hole.  It also features a double detent ball joint mechanism that holds the blade open and closed, as well as a half stop, just like a traditional slip-joint knife. 
Jens considers this knife his Upgraded Monte Carlo - bronze scales and gray clip / backspacer.  Please note that the bronze has a forced patina, that will continue to develop over time.  The blade has an easy pull, locks up tight with no blade play, and sits centered in the handle when closed.
It ships in a sturdy, thick material pouch / sleeve, provided by Jens.  Please note that this knife purchased new from Jens was (and still is) $950.
Condition:  Previously owned.  Excellent - Near Mint
                   Never used, carried or sharpened
Overall length:   6 1/4"




Blade length:     2 3/4"




Closed length:   3 3/4"