Jerry Fisk M.S., FiskCo Knives Prototype Hunting Knife, Leather Sheath (SOLD)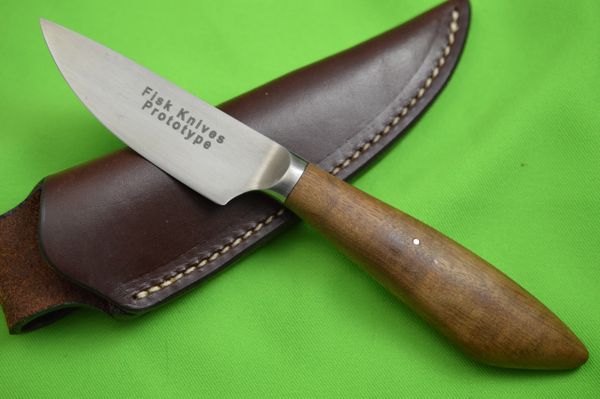 Jerry Fisk M.S., FiskCo Knives Prototype Hunting Knife, Leather Sheath (SOLD)
From Jerry Fisk's website (
Jerry Fisk Knives
)...
"Hi, my name is Jerry Fisk; I have been living and working full-time as a Master Bladesmith since 1989.  I received the honor of being named a National Living Treasure in 1999.  Please see the Awards link for a complete history of where I have been and what I have done.  And, yes, I did wear clean underwear along the way as my mother taught me.  Most of my pieces are created using natural materials for handles.  The blade steels I prefer are traditional carbon steels or I will blend various steels to make my own Damascus.  I continue to push myself to improve what I do know and to learn new skills and techniques so that I can offer you the best work that I can currently do.  I prefer to engrave the pieces that I make as I think it makes the package complete though the piece must stand on its own merits without ornamentation.  All of my blades from field grade to ornate pieces are tested to insure they perform in the manner for which they are designed for and made as strong as the design allows.   In these modern times you have to search for something that a craftsman/artist makes one-at-a-time.  The days of one person working in their shop to create functional works of art are fast going, as it seems we live in a disposable world.  This is your time to own something for you and your family that can be passed down.  Each generation will have its own stories of the piece and the memories it holds for them. That is something to treasure for the ages."
This is one of Jerry's FiskCo Knives field grade hunting knives.  This knife blade is marked "Fisk Knives Prototype".  There were only 50 of these knives made, and to the best of my knowledge each was marked as a prototype.  The blade is 52100 carbon steel, with a satin finish.  The handle is walnut.  There really is no guard; it is sort of "integral" to the blade.  The leather pouch-type belt sheath was made by Blue Wolf, as stamped on the back of the sheath below the belt loop.  The knife is in excellent, unused condition.  The blade has some marks from insertion into the sheath.  The handle is perfect, and a bit of wood conditioner would likely bring out the grain of the walnut.  The sheath in also in excellent condition.  The knife comes in the original Fisk Knives Good To Go wooden hinged box, with the Care / Warranty insert.  The box and insert are both stained from what is presumably oil that was used to coat the blade while stored.  This one would be a great addition to any collection, or would serve you well out in the field.  These do not come up for sale often.  I have not seen one available for years.

Condition:  Previously owned, Excellent condition
                    Never used, carried, or sharpened
Overall length:       7 5/8"

Blade length:         3 1/4"
Handle length:       4 3/8"