Jerry Moen "Blue Max 1" Carbon Fiber Flipper (SOLD)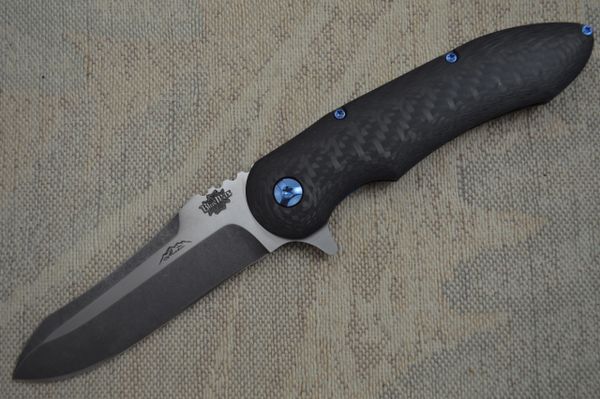 Jerry Moen "Blue Max 1" Carbon Fiber Flipper (SOLD)
Jerry Moen introduced The Blue Max at the 2015 Blade Show. His books were closed shortly after the show. This knife was made in honor of his personal friend and knife collector Raymond "RB" Beadle of Blue Max Funny Car fame, who passed away in October of 2014. You can read about the knife on Jerry's page at
The Blue Max.
There is also a link on the page to a YouTube review by Jim Skelton. Jerry won't be making any more Blue Max's after next month. Finding them will be difficult, considering the number he will have made, and the fact that those who have one don't want to part with it.
This is The Blue Max 1 flipper folder, Jerry's larger version of the knife. It is made of all carbon fiber, weighing in at a mere 3.5 total ounces. The satin / tumble finished blade is PSF 27 steel and has notched thumb-rest. All the fittings, as well as the notched backspacer and tip-up pocket clip are anodized titanium. It rides on bearings, and flips effortlessly. There is a single anodized titanium liner that locks up tight with no blade play whatsoever. When closed, the blade is perfectly centered in the handle. Comes in a padded zippered case.
Condition:
New from the maker
Overall length: 8 3/4"

Blade length: 3 3/4"

Closed length: 5"