Jess Horn "Baby Horn", Custom Lock-Back Mother of Pearl (SOLD)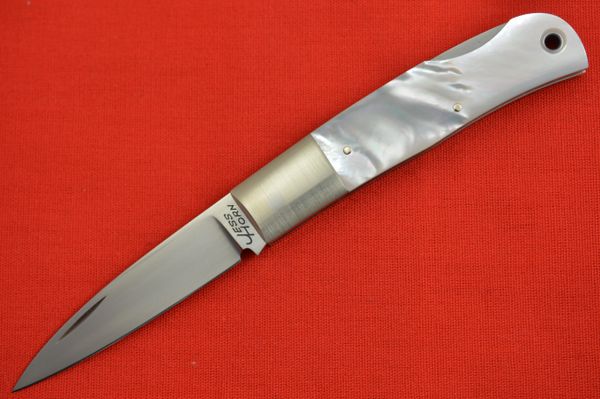 Jess Horn "Baby Horn", Custom Lock-Back Mother of Pearl (SOLD)
Sadly, the knife community lost legendary knifemaker Jess Horn in February 2016.  Jess was known for his simple clean lines, tight tolerances, exceptional fit and finish, and classic designs.  Jess was one of the great ones, a knife making legend.  Even before his passing, his knives were sold via lottery at the shows he attended.  His work is found in the most distinguished collections all over the world.  Holding a Horn knife gives you the immediate sense of the quality of the materials he used, his high standard of workmanship, his unique elegance, and the care and effort that went into each and every one of his knives.

This custom "Baby Horn" lock-back folding knife is a classic example of the quality of Jess' work.  It is marked serial number 174.  The bolster, liners and pins are 416 Stainless Steel, the blade is CPM-154 steel, and the handle scales are perfect, premium slabs of Mother of Pearl.  The fiery colors are difficult to capture in the photos.  Move the handle in the light, and they shimmer.  There is a black backspacer at the rear of the handle - perhaps micarta or G-10?
There is an ample nail nick to open it, with a firm and smooth pull.  It locks up tight with absolutely no blade play, and the blade is perfectly centered in the handle when closed.  This knife is in pristine, mint condition.  Jess' knives are becoming difficult to find.  Unfortunately, since his passing, collectors are holding on to his work.  This is a gorgeous piece for any collector, and a centerpiece for your collection.  It will come in a case or protective sleeve.

Condition:  Previously owned.  Mint condition.
                    Never used, carried or sharpened
Overall length:  5 13/16"

Blade length:    2 9/16"

Closed length:  3 5/16"