Jess Horn Lock Back Folder (SOLD)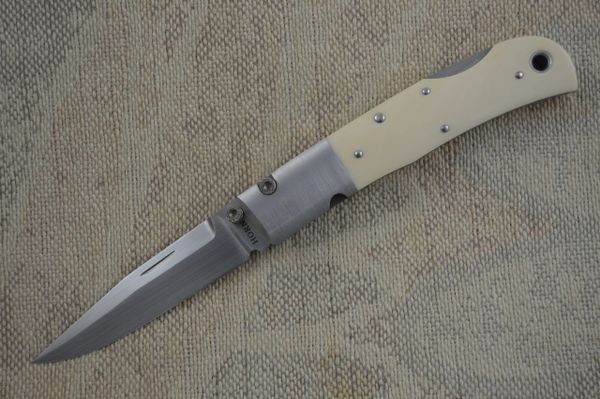 Jess Horn Lock Back Folder (SOLD)
This is an absolutely exquisite lock-back folder from Jess Horn, featuring a hand-rubbed ATS-34 satin finished clip point blade with false top edge, and
both
a nail nick and a thumbstud opening mechanism.  Additionally, there is another matching "thumbstud" on the front of the lock lever bar, seated in the bolster.  We have not seen any other examples of Jess' knives with this added feature.  When opened, they sit adjacent to one another along the spine of the knife, and when closed, they sit on opposite sides of the bolster symmetrically place on top and bottom - and outstanding look!  The bolsters are satin finished 416 stainless, with beautifully matched and fossilized natural scales (no cracks or shrinkage - perfect!), hand peened nickel silver pins, and stainless liners.  The satin finished backspacer is stainless steel with a black micarta insert towards the rear of the handle, and the rear of the handle also has a stainless steel lined lanyard hole.  It opens and closes buttery smooth, locks up tight with no blade play when opened, and the blade falls centered in the handle when closed.  It is numbered 036.  It comes with a Jess Horn padded, zippered case.
Condition: 
Previously owned. Near mint!
                    Never used, carried, or sharpened.
Overall length:  6 7/8"

Blade length:    3"

Closed length:  3 7/8"