Jim Burke Custom REBEL Slip-Joint Folding Knife, Carved Zirconium Inlays (SOLD)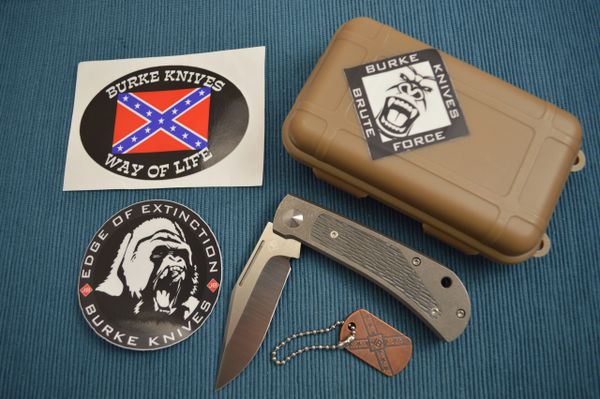 Jim Burke Custom REBEL Slip-Joint Folding Knife, Carved Zirconium Inlays (SOLD)
This Rebel slip-joint folding knife is Brand New from Jim Burke at Burke Knives. Jim makes an outstanding slippie. This knife defines "walk-and-talk". The action on the knife is amazing. The backspring is strong, the nail nick pull is firm, and does this knife "pop" - even when opened to the half-stop! Any of Jim's knives are hard-to-get, but the coveted Rebel is his newest model and a rare find.
This Rebel features a hand rubbed satin finished PSF27 steel blade, and 6AL4V Titanium frame, pocket clip and screws. The beautifully, and tastefully carved inlay on both sides of the handle are Zirconium. The backspring is satin polished, as is the conical-shaped pivot. The knife comes in a Burke hard-sided clamshell case, with two (2) pictured stickers and copper dog tag. This is a heavy duty folder, that functions flawlessly - perfect for EDC.
Condition: Brand New. Mint Condition.
Overall length: 7 1/4"




Blade length: 3 1/4"




Closed length: 4"