Jim Crowell, Master Smith Small Clip Point 6" Blade, Bowie Knife (SOLD)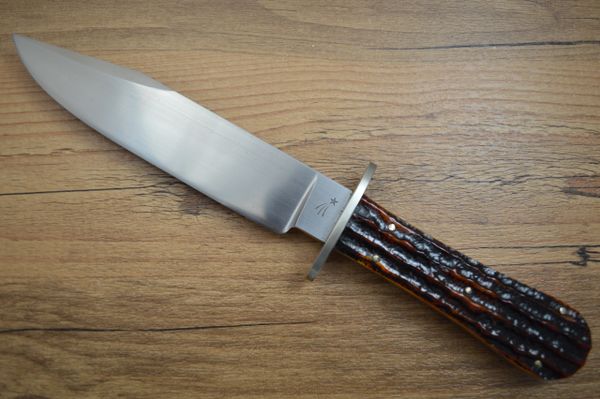 Jim Crowell, Master Smith Small Clip Point 6" Blade, Bowie Knife (SOLD)
Jim Crowell is well-known for his flawless forging ability. This small Bowie knife is testament to his outstanding work and attention to detail. It is in excellent condition. However, despite being stored in a climate controlled environment, coated with oil, there are some very faint pepper marks on the blade that can only be seen at certain angles and cannot be felt. .
This knife was recently acquired from the original owner, who purchased it directly from Jim at a Blade Show just a few short years ago. Jim's signature "Shooting Star" maker's mark is stamped on the tang. The scales are beautiful brown / reddish jigged bone, the blade is satin finished 1084 steel, and the guard is nickel silver. The top edge of the clip point blade is not sharpened. The blade grinds and geometry are perfect. Comes in a zippered case - there is no sheath.
Condition:
Previously owned. Excellent Condition
Never used, carried, or sharpened
Overall length: 10 1/8"
Blade length: 6"