Jim Lee Handmade Fixed Blade Hunting Utility Knife (SOLD)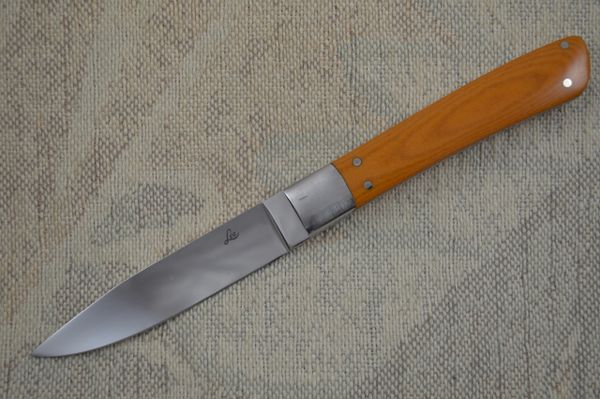 Jim Lee Handmade Fixed Blade Hunting Utility Knife (SOLD)
This straight blade knife from Jim Lee would make a great all around utility knife.  It could easily be used as a hunter, fighter or kitchen knife.  It is in excellent condition.  It has not been used or sharpened.  The dovetailed bolsters do show some light surface scratches from storage.  It is marked "Lee" (in script) on the blade.  I am not certain what the blade steel is.  Nice tapered tang sandwiched between 2 slabs of what I can guess is either Westinghouse micarta or antique paper micarta.  Either one, it has beautiful color and grain, and is tastefully pinned in 4 places.  There is no sheath.  It will be shipped in a padded zippered case.

Condition:  Previously owned.  Excellent condition (as noted).
                    Never used, carried, or sharpened
Overall length:   7 3/8"

Blade length:     3 1/2"