Jim Serven Rare Pull Apart Tortoise Shell "Funny" Folder (SOLD)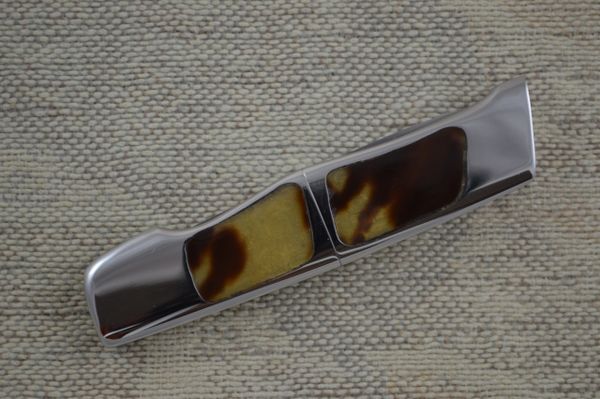 Jim Serven Rare Pull Apart Tortoise Shell "Funny" Folder (SOLD)
A rare and unique Jim Serven pull-apart, swing-out blade, or as some have called it "funny folder". Sadly, the knife world lost Jim in late 2013. This knife design was first featured on page 60 of the 11th Annual Edition of KNIVES '91. It is Jim's own creative design, and an outstanding piece. The handle pulls apart in the center revealing the blade resting in-between the liners. The blade then swings out, and the handle is closed, locking the blade in place. There is a hint of up-and-down movement when opened. To close the knife, just reverse the process. Each "half" on either side of the framed handle has a piece of inlaid tortoise shell. Blade sits centered when closed.
Condition:
Previously owned. Excellent.
Never used, carried, or sharpened.
Overall length: 6"

Blade length: 2 1/2"

Closed length: 3 1/2"