Jim Sornberger Liner Lock Gentleman's Folder (SOLD)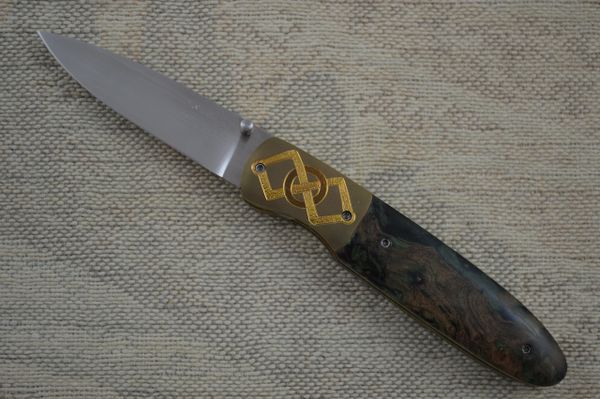 Jim Sornberger Liner Lock Gentleman's Folder (SOLD)
Jim Sornberger hails from Volcano, CA and is well-known for crafting custom knives with outstanding fit and finish. This gentleman's liner lock folder marked J. Sornberger features an ATS-34 blade, stabilized California Buckeye Burl handle, thumbstud for easy opening, and one of the most artfully designed and unique bolsters we've seen. The bolsters are copper titanium which complements the grain of the buckeye handle, and inlaid into either side of the bolsters are two gold tone, textured titanium squares in a "figure 8" with the furthest points hiding the screws. Intertwined in the center of each figure 8 is a circle of textured titanium - bronze on the thumbstud side and purple on the opposite side. The liners are thick gold colored titanium, and there is a solid backspacer. The blade locks up tight with no play, and it is perfectly centered when closed. An beautiful, classy package.
Condition:
Previously owned. Near Mint (a barely visible handling rub on the non-thumbstud side of the bolster prevents it from being Mint)
Never used, carried, or sharpened.
Overall length: 6 1/4"

Blade length: 2 5/8"

Closed length: 3 5/8"