Jimmy Lile Hand Signed Big 7 Hunting Knife, Ambidextrous Sheath (SOLD)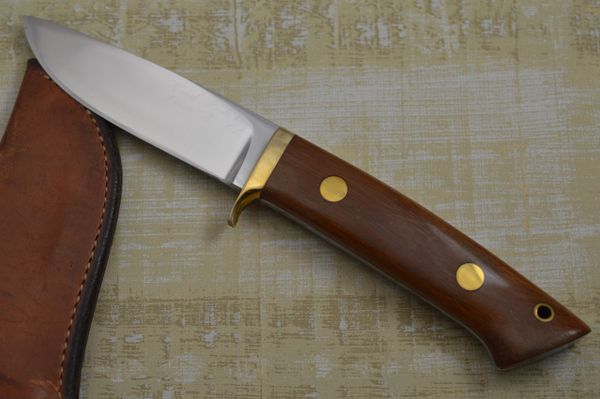 Jimmy Lile Hand Signed Big 7 Hunting Knife, Ambidextrous Sheath (SOLD)
This is a rare, older Jimmy Lile, hand signed Big 7 Hunting Knife.  We are guessing that it is circa early 1970's.  The blade is D2 steel, and the handle is an unknown type of lighter colored wood.  Etched on the blade is "Hand Made by James B. Lile" written in script.  The single finger guard, pins and lined thong hole are all brass.  This knife came out of a private collection.  Overall, the knife is in excellent condition.  There are some micro scratches on the blade and guard caused by insertion / removal from the sheath.  The blade does not appear to have ever been used or sharpened.  It is still as razor sharp as the day it left Jimmy's shop.  The tapered tang reduces the overall weight of the knife, and the contour of the handle makes it feel great in-hand.  Jimmy Lile's handmade / hand signed knives are becoming increasing more difficult to find in the secondary market.  They are highly desirable and coveted by collectors.  Now's your chance to get one of his more sought-after models.  Includes the original ambidextrous sheath with slits in the leather on both sides, for right or left carry.  The sheath has some minor scuffing.  There is no pouch.
Condition:
  Previously owned. Excellent.
                    Never used, carried, or sharpened.
Overall length:   8 1/2"
Blade length:     4"
Handle length:   4 1/2"