Joe Flournoy Mastersmith Large Carbon Bowie, Rowe Leather Sheath (SOLD)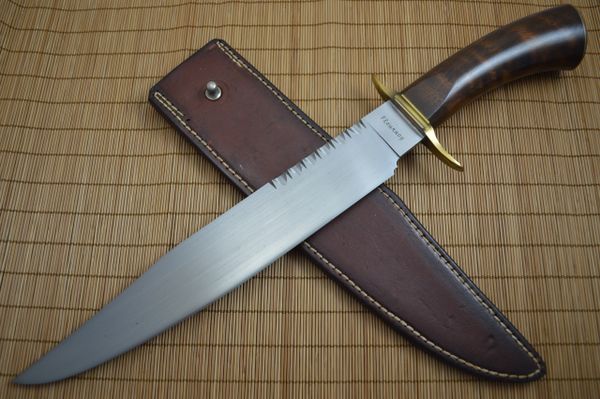 Joe Flournoy Mastersmith Large Carbon Bowie, Rowe Leather Sheath (SOLD)
Joe Flournoy earned his Mastersmith stamp from the American Bladesmith Society (ABS) in 1992.  He started making knives in 1977, and joined the Knifemakers' Guild in 1979.  He has won any number of major awards for his knives, including Best Forged Blade at the 1992 Blade Show, and in 1993 he received the coveted W. F. Moran Award.  In 1995 he won the Blade Show award for the Best Damascus.  After the bladesmithing school opened at the Bladesmith Shop in Historic Washington State Park, he was the first person to enroll in a class.  He was taught basic forging by none other than Bill Moran.
The previous "one owner" purchased this knife directly from Joe at a Guild Show in the early 1980's.  This was prior to the ABS setting standards, in 1988, for M.S. and J.S. testing.  So, although Joe was producing Mastersmith quality work back then, there was no such thing as a Mastersmith when he made this knife.  It does not bear any stamp, other than "Flournoy".  The knife blade was forged from 1084 high carbon steel, with a hand rubbed finish.  There is "dog bone" file-work on the blade spine, and filed notches at the rear of the blade edge just below the ricasso.  The handle is Amboyna Burl, and the double lug guard and butt cap are brass.  The brass has dulled slightly, but will polish up nicely.  We've left that to the new owner, should they choose.  The knife comes with a leather frog button concealment sheath, made by Kenny Rowe Leathers.  There are some fine lines on the blade from inserting it into the sheath, and some tiny pepper / carbon spots on the blade from age - in spite of being religiously coated in oil and stored outside the sheath.  After all, the knife is 35+ years old.  Otherwise, it is in excellent, unused condition - light and fast in-hand.  No case with this one, just the knife and sheath.  This is a great example of Joe's work.  Definitely a knife that would serve you well, camping or hunting.
Condition: 
Previously owned, Excellent.
                    Never carried, used or sharpened
Overall length:      16 1/4"

Blade length:         11"
Handle length:       5 1/4"
Blade thickness:    0.22"
Weight:                  13.4 ounces (without the sheath)