Joe Keeslar, MS "Ben Lilly Bear Killer" Knife, 14.5" OAL, 10" Blade (SOLD)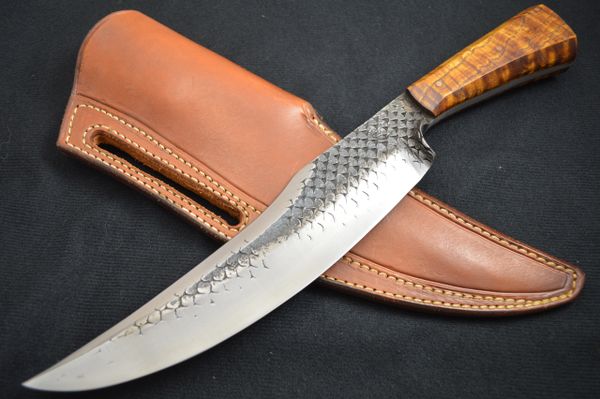 Joe Keeslar, MS "Ben Lilly Bear Killer" Knife, 14.5" OAL, 10" Blade (SOLD)
Joe Keeslar is a United States Marine. He completed his B.S. and M.S. degrees in Industrial Arts Education at Murray State University with majors in Wood and Metal working. He then taught Industrial Arts at Murray High School for the next twenty-three years retiring in 1993. Joe's love of crafts began at a very young age. He tooled leather as a teenager, made his first knives in 1962, and built his first Dixie Gun Works kit long rifle in 1964. Active in black powder buck skinning he built Pennsylvania flintlock rifles, pistols, fowling pieces, and accessories. In the mid seventies Joe first met Bill Moran who was exhibiting his early Damascus steel knives at the second American Blacksmith Association of North America (ABANA) Conference in Lumpkin, Georgia. He returned home to make his first Damascus knife the next week. In the early eighties he attended an American Bladesmith Society hammer-in at Washington, Arkansas, saw demonstrations by Bill Moran, Don Hastings, and Bill Bagwell, and heard his first Bill "BR" Hughes presentation on James Bowie and the Bowie knife. He immediately joined the ABS due to its focus on education, and promptly switched from rifle making to knife making. Joe received his Journeyman Smith rating in 1987 and Master Smith rating in 1989. He is a frequent instructor at the William F. Moran School of Bladesmithing, and has served on the Board of Directors of the association since 1989 and was Chairman of the ABS from June 2003 through June 2007.
This is Joe's BEN LILLY BEAR KILLER. It was inspired by the 19th Century hunter, tracker and guide, Ben Lilly. He was born in 1856 in Alabama and followed the bear and panther westward through Mississippi and Louisiana to Texas, leaving a trail of stories about his prowess as a hunter and his goodness as a man. He was "chief huntsman" to Teddy Roosevelt, hunting in Texas and Mexico, and came to be known as the master sign reader of the Rockies. From time to time he would stop and forge a knife at a blacksmith shop during his travels; his knives were made from old files. He has been referred to by many as the "Last of the Mountain Men". There have been numerous books written about Ben Lilly. This "Ben Lilly Bear Killer" is Joe's interpretation of one of his knife blade designs, with his signature Brut de Forge integral guard and handle.
Joe forged the blade from a 19th Century French rasp cut file. You can just make out his maker's mark in the last picture. The top edge has the same razor sharp edge as the belly of the blade. The handle is thick, presentation grade curly maple, anchored in 4 places with copper pins. The sheath is 6.7 ounces of leather, and was also made by Joe. The previous "one owner" purchased this knife directly from Joe at a Blade Show approximately 5 years ago, and has kept it stored outside the sheath and coated in oil. It is in excellent, mint, unused condition - just as it was received from Joe. This is a big knife. The blade is 0.345" thick at the junction of the handle, and the handle is 1.37" across at the butt and tapers to 1.03" near the blade, making it feel secure and comfortable in-hand.
Condition:
Previously owned, Excellent.
Never carried, used or sharpened
Overall length: 14 1/2"

Blade length: 10"
Handle length: 4 1/2"
Weight: 1 lb 6 oz (knife only)