Joe Keeslar, M.S. MUSSO BOWIE Reproduction, #6 of 10, Leather Sheath (SOLD)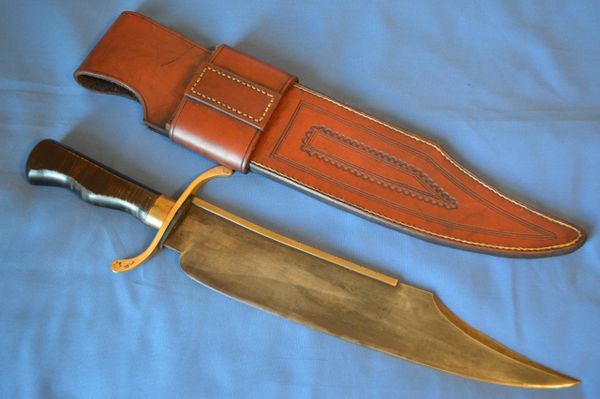 Joe Keeslar, M.S. MUSSO BOWIE Reproduction, #6 of 10, Leather Sheath (SOLD)
Joe Keeslar is a United States Marine. He completed his B.S. and M.S. degrees in Industrial Arts Education at Murray State University with majors in Wood and Metal working. He then taught Industrial Arts at Murray High School for the next twenty-three years retiring in 1993. Joe's love of crafts began at a very young age. He tooled leather as a teenager, made his first knives in 1962, and built his first Dixie Gun Works kit long rifle in 1964. Active in black powder buck skinning he built Pennsylvania flintlock rifles, pistols, fowling pieces, and accessories. In the mid seventies Joe first met Bill Moran who was exhibiting his early Damascus steel knives at the second American Blacksmith Association of North America (ABANA) Conference in Lumpkin, Georgia. He returned home to make his first Damascus knife the next week. In the early eighties he attended an American Bladesmith Society hammer-in at Washington, Arkansas, saw demonstrations by Bill Moran, Don Hastings, and Bill Bagwell, and heard his first Bill "BR" Hughes presentation on James Bowie and the Bowie knife. He immediately joined the ABS due to its focus on education, and promptly switched from rifle making to knife making. Joe received his Journeyman Smith rating in 1987 and Master Smith rating in 1989. He is a frequent instructor at the William F. Moran School of Bladesmithing, and has served on the Board of Directors of the association since 1989 and was Chairman of the ABS from June 2003 through June 2007.
The Musso Brass-Back Bowie Knife is believed to have been the knife Jim Bowie had at the Alamo. It was found in an antique piece of furniture, and later sold to Musso by an art dealer. He was cleaning the knife in 1980, and discovered the "JB" on the guard, and sent the knife to DuPont for tests. It was proven to have come from the Southwest portion of Arkansas and built in the early 1800s. It was used as the model for the 2004 Alamo Movie, and is owned by Joseph Musso.
This huge and rare Musso Bowie reproduction was made by Joe around 2008. Joe was given the opportunity to handle, weigh and photograph the original Musso Bowie owned by Joe Musso, in order to make an exact replica of the knife. Joe's attention to detail from the original Bowie was so precise, that on a handshake deal, the owner of the original requested that he make no more than ten (10) of the historically correct antiqued versions, so as not to create any controversy in the future. The knife we have available for sale is #6 of the 10 made. You can see the number in the photo of the bottom of the ricasso.
The knife is in "like new" authentic condition. It is not pristine, clean and shiny. This is a period piece. This knife was made with all the markings that appear on the original, left to age on its own, to develop the beautiful patina you see in the photographs. It is also authentic with respect to the size and weight. It is 19.75" in overall length, with a 13.75" blade made from 5160 steel. The handle is Maple wood, and the "S" shaped guard is brass. The brass "back" is 7 3/8" long, and the sharpened top clip is 5 1/4". The knife weighs in at 1 pound 11.3 ounces.
Joe is also known for his excellent leather work. He did an outstanding job of crafting a leather belt sheath for the knife. He has also added some very tasteful tooling on the front. This is a massive Bowie. Not for the faint of heart. The knife was likely used more like a short sword. The knife is on consignment from the collection of another world renown Mastersmith. He acquired it directly from Joe, and it has been in his collection since. Being a Mastersmith himself, the knife was well cared for, and stored properly. The knife is in excellent, authentic, unused condition. This Mastersmith is "thinning" out his collection, and Windy City Knives is honored to have been appointed as his chosen purveyor.

If you like big knives, or are a collector of historically correct reproductions, this one's for you. It would be a great addition to any collection. Joe's knives are well-respected among both makers and collectors. No case with this one.

Condition: Previously owned, Excellent Condition
Never used, carried, or sharpened
Overall length: 19 3/4"

Blade length: 13 3/4"
Handle length: 6" (incl. guard)
Weight: 1 lb, 11.3 oz (knife only)