John Barker Black Shuck, CTS-XHP, Zirconium Pivot Collars, Backspacer (SOLD)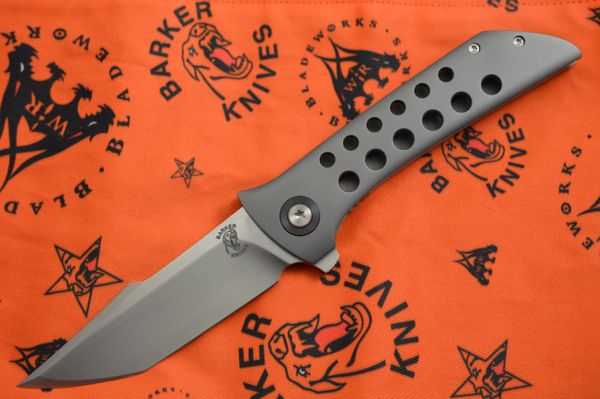 John Barker Black Shuck, CTS-XHP, Zirconium Pivot Collars, Backspacer (SOLD)
This John Barker Black Shuck is Brand New, and direct from John.  It features a hand-rubbed, satin finished CTS-XHP stainless steel blade, with a Tanto / Harpoon profile.  It also sports a smooth blast Titanium frame, all Titanium hardware, and Zirconium pivot collars and backspacer.  The tip-up mounted pocket clip is also titanium.  This knife is a frame-lock.
The knife has an excellent detent, rock solid lock-up and a perfectly centered blade.  Comes in the Barker Knives pouch pictured in the background.  One of John's best!
CONDITION:  New from the maker
Overall length:    8 1/4"
Blade length:      3 1/2"
Handle length:    4 3/4"