John Gray SPLITTER, Agent Version, Frame-Lock Flipper (SOLD)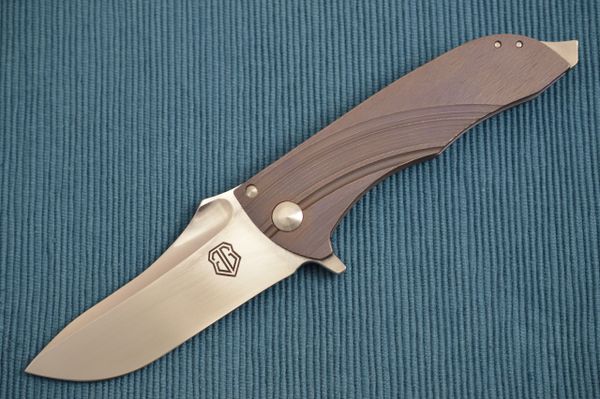 John Gray SPLITTER, Agent Version, Frame-Lock Flipper (SOLD)
This John Gray Agent Version SPLITTER is a frame-lock flipper. It is previously owned, but in excellent, unused, mint condition. It features a multi-ground AEBL steel blade, tempered to a Rockwell hardness of 62RC. It has a mostly satin finished blade, with highly polished accent areas on either side. The handle is anodized Titanium, with almost a purplish-bronze finish - actually a very cool look. The handle is done in a Tree Bark finish, with Milling done on the presentation side. The contoured pocket clip is also done in the same finish as the frame, and set for tip-up carry. John has also included a "skull crusher", done as an extension of the backspacer. The blade runs on bearings, and flips smoothly and effortlessly. The detent is excellent, the lock-up is early and secure, and the mulit-grind blade sits perfectly in the frame. Comes with a COA signed by John, as well as a padded storage case.
Condition: Previously owned. Mint Condition.
Never used, carried or sharpened.
Overall length: 8"




Blade length: 3 1/2"




Closed length: 4 1/2"