John Horrigan Master Smith "McNulty Fighter", "To The Fallen" Psalm 144.1 (SOLD)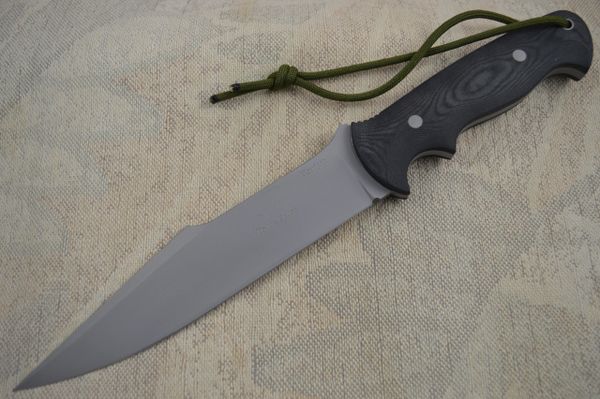 John Horrigan Master Smith "McNulty Fighter", "To The Fallen" Psalm 144.1 (SOLD)
John Horrigan built his first knife in 1982. Today he is a Master Smith and member of the American Bladesmith Society. He makes both forged and Damascus knives, as well as tomahawks. He was a former saw gunner with Alpha Company 3rd 75th Ranger Battalion. He has been in law enforcement for the past 15 years, and is also a firefighter with the Austin Fire Department. John is one of the most talented knifemakers I have ever met - a real gentleman, and a personal friend. Please visit John's website,
Elite Knives
, to read and see more about his work. His site is dedicated to his twin brother, Msg. Robert Horrigan who lost his life at the young age of 40 years in service to our country on June 17, 2005. Msg. Horrigan was killed with
Msg. Michael McNulty
, age 36, supporting Operation Iraqi Freedom while conducting combat operations in Al Qaim, Iraq.
This knife was named in honor of Msg. McNulty, but it's as much a tribute to both men. The only differences between this knife and the other
McNulty Fighter
offered for sale on the site is that on this knife John has marked the blade with "To the Fallen" and the top of the tang with "Psalm 144.1" (which is, Blessed be the Lord, my rock who trains my arms for battle, who prepares my hands for war). The McNulty Fighter has a blade of CPM 154, sandblasted, with a Rockwell hardness 60. The handle is black linen micarta. The top edge of the blade is sharpened. When you talk about "shaving sharp", that's how John grinds. This knife feels great in-hand, from the finger grooves on handle to the jimping on the blade. The knife comes with a custom fitted Kydex sheath with Tek Lok hardware. If you see any black specks on the blade, these are just from the inside of the Kydex sheath and not on the blade itself. The knife and inside of the sheath also had some oil, which was wiped down before the pictures were taken.
Condition:
BRAND NEW from maker
Overall length: 12 1/2"

Blade length: 7 1/4" (7" cutting edge)

Top cutting edge: 4 1/8"