John Horrigan, M.S. Turkish Twist Damascus, 24K Gold Persian Fighter (SOLD)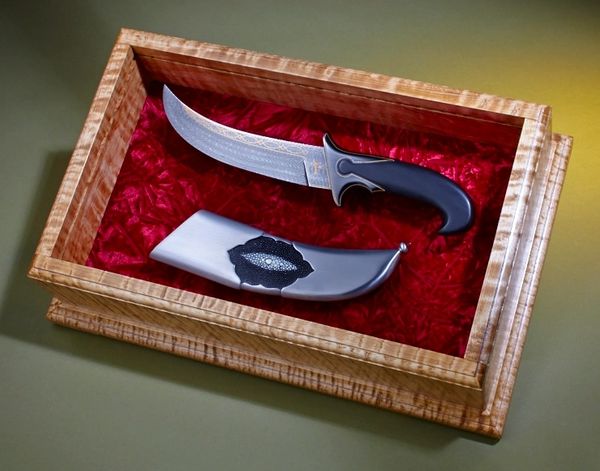 John Horrigan, M.S. Turkish Twist Damascus, 24K Gold Persian Fighter (SOLD)
John Horrigan built his first knife in 1982. Today he is a Master Smith and member of the American Bladesmith Society. He makes both forged and Damascus knives, as well as tomahawks. He was a former saw gunner with Alpha Company 3rd 75th Ranger Battalion. He has been in law enforcement for the past 15 years, and is also a firefighter with the Austin Fire Department. John is one of the most talented knifemakers I have ever met - a real gentleman, and a personal friend. Please visit John's website,
Elite Knives
, to read and see more about his work. His site is dedicated to his twin brother, Msg. Robert Horrigan who lost his life at the young age of 40 years in service to our country on June 17, 2005. Msg. Horrigan was killed with
Msg. Michael McNulty
, age 36, supporting Operation Iraqi Freedom while conducting combat operations in Al Qaim, Iraq.
This knife is John's Persian Fighter. Windy City Knives is honored to be able to offer this outstanding knife. It truly demonstrates John's talent and ability, and epitomizes his skill for forging Damascus and working in fine detail. It is one of one. This is a work of art that will stand out in any discerning knife enthusiast's collection. In fact, it comes in a custom made wooden box with glass top, and lined interior with magnetized mounts - ready to display! The first 3 pictures are courtesy of John Horrigan. We've taken some additional pictures.
The blade is made from 6 bar Turkish Twist Damascus. The bolster is hot blued mild steel, and the handle is Ebony Gaboon wood. Inlaid into the blade and bolster, as well as John's maker's mark and M.S. stamp is five (5) feet of 24K gold in an endless knot pattern. Complementing the knife is a brushed stainless steel sheath with stingray inserts on both sides - the primary side of the sheath having the stingray spine. It is lined with leather, and fits the knife perfectly. We cannot say enough about the fit and finish on this piece. It can only truly be appreciated up close. It is in absolutely pristine, mint condition.
LAYAWAY AVAILABLE
Condition:
BRAND NEW from maker
Overall length: 12"

Blade length: 6 1/2"