Johnny Stout Engraved Custom Stag, Antique Butterscotch Micarta, Fixed Blade Hunting Knife (SOLD)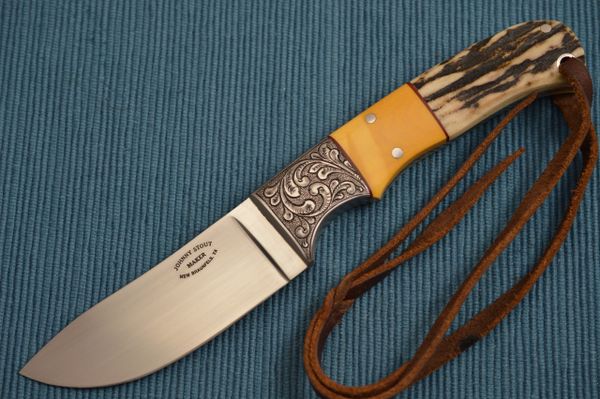 Johnny Stout Engraved Custom Stag, Antique Butterscotch Micarta, Fixed Blade Hunting Knife (SOLD)
It's not often that a custom fixed blade knife by Johnny Stout of New Braunfels, Texas becomes available.  This outstanding hunting knife is a great example of Johnny's work.  It is marked with the number 340.  It features a satin finished ATS 34 blade, engraved 416 stainless steel bolster, and a beautiful Sambar Stag and Antique Butterscotch Micarta handle all separated by red liners.  I was told that the engraving was done by firearms engraver Norvell Foster of San Antonio, TX, but cannot find his mark.  The knife is previously owned, and both the blade and handle are in excellent condition - no indication of carry, use or sharpening.
This knife is on consignment.  The owner has made the following offer to the buyer...
He is prepared to give a $100 credit towards the purchase of a sheath from Kenny Rowe Leather.  After purchase, I will contact Kenny and give him the name of the new owner.  Then you can deal directly with Kenny to design your sheath.  The current owner will pay directly to Kenny the cost of the sheath up to $100 - anything over will be the new owner's responsibility, and there will be no refund of unused funds should your sheath be less than $100.  Alternatively, if you do not want a sheath from Kenny Rowe, contact us before buying the knife, and we can discount the knife an additional $100 to $595.  In either case, you will receive the knife securely packed and shipped in a padded, zippered case.  
Condition:
  Previously owned.  Excellent.
                    Never used, carried or sharpened
Overall length:   7 3/4"
Blade length:     3 1/2"
Handle length:   4 1/4"