Keith Ouye Engraved "Dragon", Custom Liner-Lock Flipper Knife (SOLD)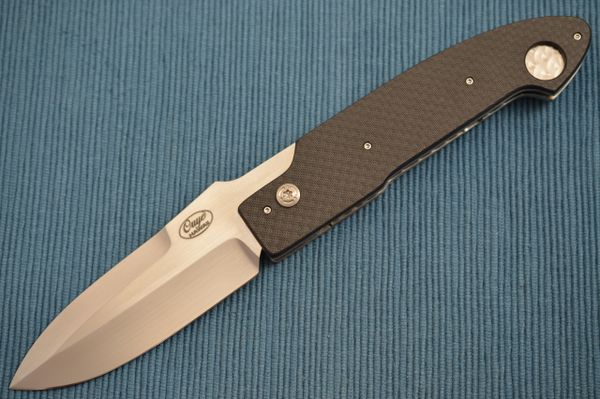 Keith Ouye Engraved "Dragon", Custom Liner-Lock Flipper Knife (SOLD)
The "Dragon" custom liner-lock tactical flipper was made by the talented knifemaker Keith Ouye, a Hawaiian native who currently resides in Oahu.  We call it the Dragon because of the engraved dragon on the pocket clip, expertly executed by Bruce Shaw.  The hand rubbed, satin finished, spear point blade is CPM-154 stainless steel, with a false top edge.  The handle is black carbon fiber on the presentation side, and satin finished titanium on the clip side.  A round cutout at the end of the carbon fiber scale reveals the jeweled titanium liners.  The blade runs on washers, and flips fast and effortlessly.  Keith's flipper mechanism does take some practice.  The trick is to get your index finger clear of the tang when flipping the blade.  In order to do this, Keith recommends that you hold the knife further down the handle in the palm of your hand, and drag your index finger down along the spine of the handle as you deploy the blade.  You have to get your index finger out of the way as you press the tab.  A few flips, and you'll master the technique.  And when you do, you'll love the action.
It is a sleek, linear design, with great ergonomics.  It is very comfortable in-hand, and functions flawlessly.  It flips strong and locks up tight.  The blade has an easy lock release, and is centered when closed.  The knife is previously owned, and in excellent condition.  There are minor light handling marks that are barely visible to the naked eye on the titanium side of the handle.  The knife has never been used.  Comes in a padded, zippered case. 

Condition:   Previously owned.  Excellent.
                   Never used, carried or sharpened
Overall length:  8 7/8"
Blade length:    3 5/8"
Closed length:  5 1/4"