Kent Draper Large Fighting Knife, Fossil Handle, Schrap Leather Sheath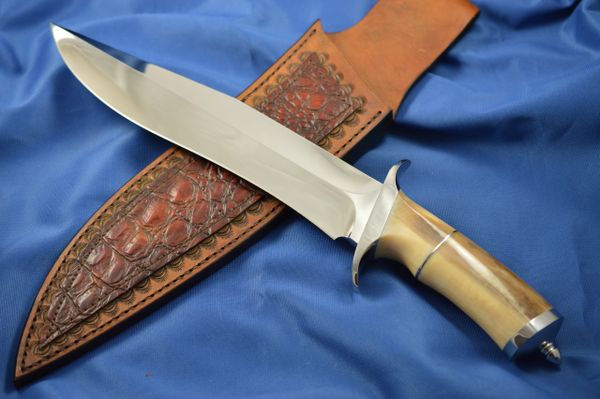 Kent Draper Large Fighting Knife, Fossil Handle, Schrap Leather Sheath
Kent Draper was the youngest son of the late, great knifemaker Harvey Draper.  Harvey and his son Bart started Draper Knives in the mid-1960s.  At that time, Kent was very young.  Bart left the business in 1971-1972.  Kent Draper started making knives with his dad, in 1973.  He sold his first knife in 1974.  Kent went on to become a well-known and accomplished knifemaker, in his own right.  Kent made knives as a hobby, in his dad's shop until 1978 when he took a job driving trucks.  Harvey died in a plane crash in 1982, and Kent tragically died in 1996.  There is a great deal of history and information about Draper Knives and this talented knifemaking family on their website (Harvey Draper Knives).  
This is a rather large Kent Draper Fighting Knife.  This Fighter features a mirror polished 440C stainless steel blade with false top edge and hidden tang.  The contoured handle is ancient fossilized material with a narrow stainless steel spacer, situated between where your forefinger and middle finger would grip the handle.  The double guard and pommel with skull crusher all appear to be stainless steel.  The ricasso is marked "K. Draper Oregon".  There may be some shrinkage to the fossil material, as I can feel the edges of the steel at the spacer, guard and pommel.  However, there are no discernible gaps in the material.  The knife comes with a handmade tooled leather belt sheath with alligator inlay, crafted by Bob Schrap of Wisconsin.  The blade is pristine, and except for some possible shrinkage, the handle material is perfect.  There are some wispy marks on the guard where it would rub the leather of the belt loop when inserting and removing the knife from the sheath.  I consider the knife to be in excellent to near mint condition.  It has never been used, carried or sharpened.  Also includes a padded zippered case.

Condition: Previously owned. Excellent to Near Mint.
                   Never used, carried or sharpened
Overall Length:      15 1/4"

Blade Length:         10"

Handle Length:       5 1/4"