Kevin Cashen M.S. Large Stag Damascus Bowie Knife, Leather Sheath (SOLD)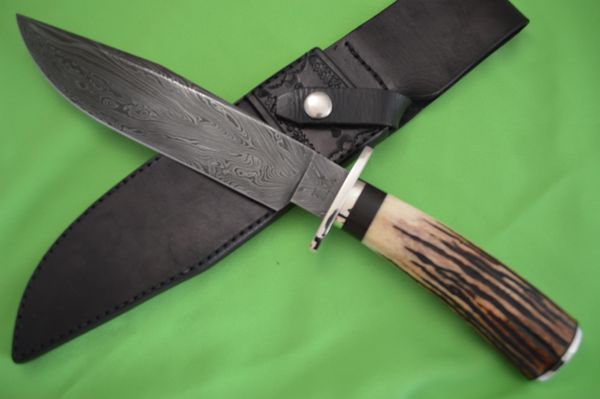 Kevin Cashen M.S. Large Stag Damascus Bowie Knife, Leather Sheath (SOLD)
From Kevin Cashen's website..."It is much easier to make big claims and catchy sales pitches than it is to make good blades, my philosophy and pledge to the end user is honest and simple- I strive to make the best blade I possibly can, with the goal of continual improvement and learning for the rest of my life.  By following this simple, honest approach I have built a lasting reputation for uncompromising standards of quality and integrity."  The methods Kevin employs to achieve these goals are research, raw materials, forging, heat treatment and testing.
This knife is one of Kevin's early Damascus Stag Bowie knives.  The blade was forged from 1085 and O1 steels.  The top edge is not sharpened.  The handle material is a single piece of stag (no seams), with a blackwood spacer.  The stag is perfect - great color and grain, without any cracks or chips.  The fittings - guard and butt cap - are nickel silver.  The knife was just received back from Kevin's shop, where it went through a complete refurbishing, including the sheath.  Kevin also made the tooled leather belt sheath.  It is in excellent to near "new from the maker" condition.  The blade ricasso is marked "KC" in Kevin's signature Engravers' Old English BT font.  And "M.S." on the ricasso, on the opposite side.
The knife comes in a padded zippered case.  
Condition: Previously owned. Excellent (recently refurbished by the maker)
                   Never used, carried or sharpened
Overall Length:      14"

Blade Length:         8 3/4"

Handle Length:       5 1/4"