Kevin Wilkins Medium MYTUKO, Fixed Blade Knife, Rowe Leather Sheath (SOLD)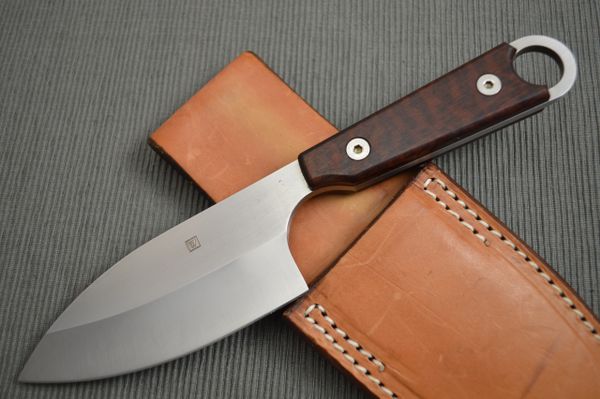 Kevin Wilkins Medium MYTUKO, Fixed Blade Knife, Rowe Leather Sheath (SOLD)
This is Kevin Wilkins medium Mytuko.  It is full tang construction, featuring a drop point, 0.170" thick A2 steel blade, with a satin finish.  The handle scales are made from premium Snakewood.  It was previously owned, and in excellent condition.  It was never used, but the blade does have some very fine, faint lines from insertion and removal from the sheath - but you really have to look for them in the right light at the right angle.  The previous owner had a leather belt sheath made for it by Kenny Rowe Leathers.  This knife is well-balanced and feels great in-hand, perfect for camping or the kitchen.
Condition:
  Previously owned.  Excellent.
                    Never used, carried or sharpened
Overall length:   8 3/4"
Blade length:     4 1/8" (cutting edge)
Handle length:   4"