Kingdom Armory Mini-Samaritan Framelock Folder (SOLD)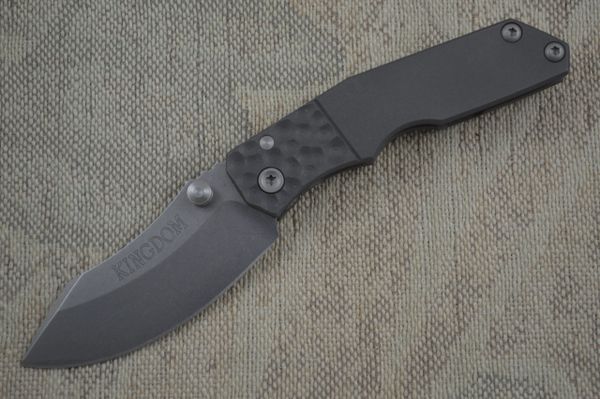 Kingdom Armory Mini-Samaritan Framelock Folder (SOLD)
Kingdom Armory Knives are designed by David M. Rydbom in Ashland, Oregon. The Mini-Samaritan design is a production Kingdom Armory folder built out as an all titanium framelock with a stonewashed S30V blade. Both sides of the frame have a dragon skin textured pseudo bolster. The titanium deep ride pocket clip is very secure and recessed down into it's own pocket milled into the frame. All the hardware is stainless, with a sleeved style pivot, and bronze washers. Additionally, all the lockfaces have been carbidized to ensure a smooth release. This is as close as you can get to full custom quality from a production knife. The fit, finish, and overall quality is outstanding! The lock up is tight with no blade play, and the blade falls dead center when closed. We absolutely love the blade shape!
Condition:
Previously owned. Mint.
Never used, carried, or sharpened.
Overall length: 6 1/2"
Blade length: 3" (a hair under - according to the Kingdom Armory website, "making it legal to carry in all 50 states")
Closed length: 3 3/4"