Kingdom Armory V2 Mini-Samaritan Frame-Lock Folder (SOLD)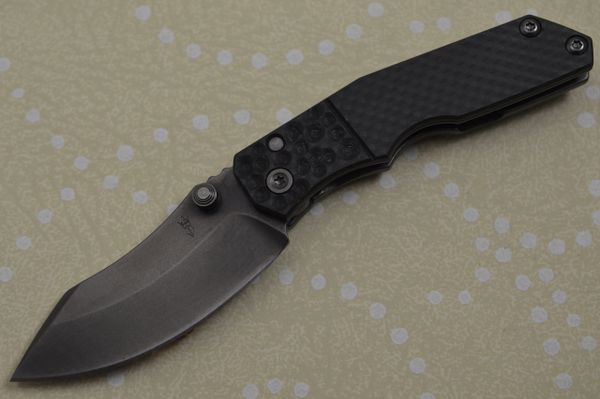 Kingdom Armory V2 Mini-Samaritan Frame-Lock Folder (SOLD)
From the Kingdom Armory website:
2018 will mark the 10 year anniversary of beginning this adventure and becoming a full time knife maker. For some reason, I've always strived to fly under the radar and quietly grind away.  Happy to do something I love and support my family with it.  Taking a passion to work and create with your hands, and making that into a career is an intensely personal journey.  If I'm honest though, it has been a saving grace in my life as I've struggled to overcome life's tragedies and set-backs.  Like an oak cask to whiskey however, this process has both refined and distilled me as a person and as an artist.  A full decade later, I am humbled by all the support and recognition from those who have found me and purchased a piece of my life's work.  I'm built up by the process of being able to build, and that wouldn't be possible without such a loyal customer base and trusting dealers.  My family and I thank you all!
Kingdom Armory Knives are designed by David M. Rydbom in Ashland, Oregon.  The Mini-Samaritan design is a production Kingdom Armory folder, built out as an all titanium frame-lock with a dark stonewashed S30V blade.  This particular knife not only has a titanium frame, but the presentation side has a carbon fiber scale overlay with the same integral bolster design as the titanium lock side.  The "pseudo bolster" on both sides has dragon skin textured dimpling - presentation side carbon fiber, and lock side titanium.  The titanium deep ride pocket clip is very secure and recessed down into it's own pocket milled into the frame.  All the hardware is stainless, with a sleeved style pivot, and bronze washers.  Additionally, all the lock faces have been carbidized to ensure a smooth release.  This as close as you can get to full custom quality from a production knife.  The fit, finish, and overall quality is outstanding!  The lock up is tight with no blade play, and the blade falls dead center when closed.  Comes in a Kingdom hard plastic clamshell case.
Condition:   Previously owned.  Near Mint.

                    Never used, carried, or sharpened.

Overall length:  6 1/2"
Blade length:    3" (a hair under - according to the Kingdom Armory website, "making it legal to carry in all 50 states")
Closed length:  3 3/4"