Kirby Lambert JUSTICE (SOLD)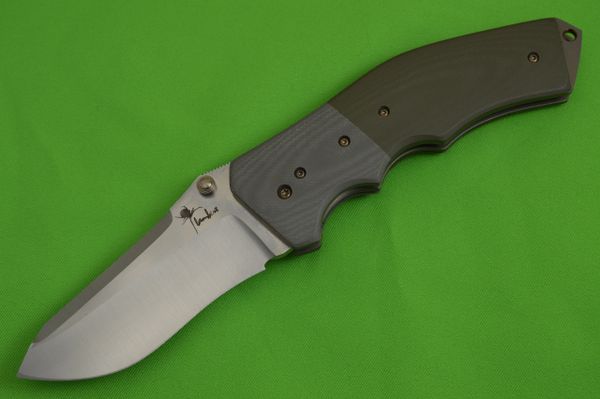 Kirby Lambert JUSTICE (SOLD)
The Justice is Kirby Lambert's largest folder model.  This liner-lock knife features a CTS-XHP stainless steel blade, green G10 scales, and gray G10 bolster.  The thick liners and hardware are titanium.  The liners end with a skull crusher with lanyard hole.  The deep carry pocket clip is PVD coated.  This is a BIG knife that absolutely melts in your hand.  The ergonomics of the handle fit perfectly in most hands, and the jimping on the blade spine provide added security.  The blade opens effortlessly, locks up tight with no blade play, and sits perfectly centered between the liners.  The lock release is easy, with no evidence of lock stick.  Kirby doesn't do many Justices, so this is a rather rare knife.  And his knives are always hot!  Ships in a padded, zippered case.
Condition:  Previously owned.
                   Never used or sharpened. Carried a few times in a cloth "sock", but you
                    can't tell...it's near mint.
                   Never clipped to a pocket.

Overall length:   9 3/4"




Blade length:     4"




Closed length:   5 3/4"