Kyle Gahagan, J.S. Sub-Hilt Sambar Stag Bowie with Hamon, Paul Long Sheath (SOLD)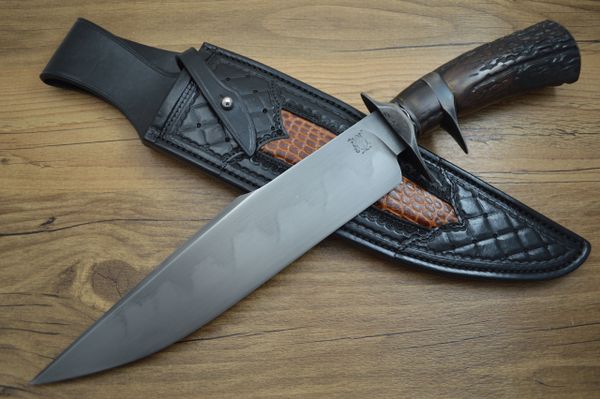 Kyle Gahagan, J.S. Sub-Hilt Sambar Stag Bowie with Hamon, Paul Long Sheath (SOLD)
Kyle Gahagan currently lives in the small town of Moravian Falls, NC, but grew up in Atlanta, GA . At the age of 20 he joined the ARMY and served with the 1st Ranger Battalion stationed at Hunter Army Airfield in Savannah, GA. He did two tours in Afghanistan, as well as two tours in Iraq. Knife making has been something he has enjoyed for many years and has recently pursued. Kyle loves to create unique pieces that challenge his knife making skills. He creates remarkable show pieces, as well as rugged work pieces that can last the times. Every knife he creates is unique, and made with only the best materials. Each knife comes with a lifetime warranty. Kyle received his ABS Journeyman Smith rating at the 2015 Blade show In Atlanta GA.
This beautiful Sub-Hilt Bowie is one-of-a-kind, and was commissioned by a avid collector. It is in absolutely Mint Condition, just as he received it from Kyle. The handle is a gorgeous piece of dark, gnarly Sambar Stag. The blade was forged from 1075 steel, with a well-defined Hamon. The guard, sub-hilt and collar were done with 1018 steel, and the carved spacer is heat treated, blued titanium. The butt cap is also 1018 steel, filed to shape, to fit the contour of the stag. The owner had the tooled leather belt sheath custom made by Paul Long. It has a pin-lock and keeper strap, and an alligator inlay. This knife feels amazing in-hand. It is extremely comfortable and very well balanced.
Condition:
Previously owned. Mint.
Never carried, used, or sharpened
Overall length: 15"

Blade length: 9 7/8"

Handle length: 5 1/8"
Weight: 1lb 4 oz (1lb 10oz with sheath)