Lamont Coombs, Jr. Hollow Handle Survival Knife + Leather Sheath (SOLD)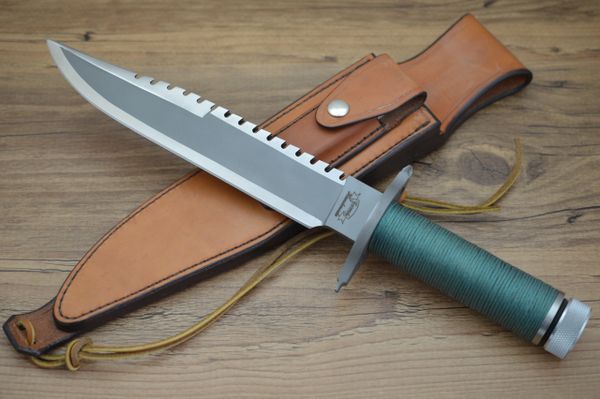 Lamont Coombs, Jr. Hollow Handle Survival Knife + Leather Sheath (SOLD)
Lamont Coomb Jr. makes mostly high-quality user knives.  He controls all stages of the build, from heat treating to testing.  Lamont stands behind each knife he makes and is confident that they will perform as designed.  Lamont not only spends significant time designing his knives, but he also spends a great deal of time designing the accompanying sheath.  This bears out once you have had the privilege of holding one of his knife and sheath rigs.  His skills are readily evident.
This is Lamont Coombs Jr.'s Survival Knife, reminiscent of Jimmy Lile's Rambo "First Blood" knife.  It features a bead blasted blade made from CPM 154 stainless steel, with satin finishes above the cutting edge and on both sides of the saw teeth.  The clip point blade has been sharpened on the top at the tip.  There are a total of 14 saw teeth.  The 5 near the tip are single teeth and the remaining 9 are double teeth.   The knife is made using hidden tang construction.  The knife has a stainless steel guard with holes on either side for tiedowns, as well as a Phillips Head screwdriver and Flat Head screwdriver.  There is also a green cord wrapped hollow handle and a removable aluminum butt cap with O-ring and compass.  Comes with a brown leather sheath with sharpening stone and rawhide tiedown.  The knife is previously owned and in excellent condition.  A few marks on the guard and some very faint sheath marks on the blade.  In the interest of full disclosure, I do not believe the compass is working properly.  There is no padded zippered case.  Just the sheath.

Condition:  Previously Owned. Excellent
                    Never used, carried or sharpened
Overall length:   13 7/8"

Blade length:      9"
Handle:               4 7/8"