Larry Fuegen, M.S. Crown Stag Hunter, Tooled Leather Sheath (SOLD)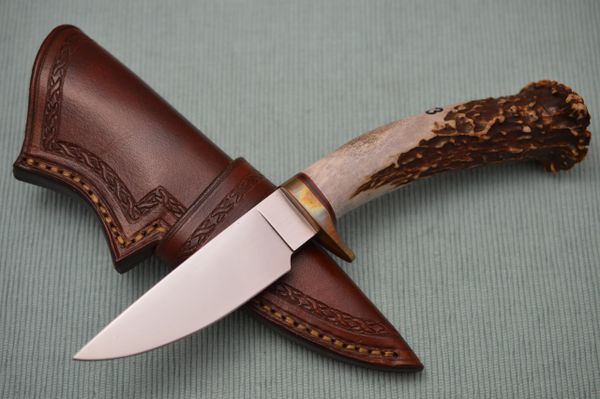 Larry Fuegen, M.S. Crown Stag Hunter, Tooled Leather Sheath (SOLD)
This Crown Stag hunting knife was crafted by Mastersmith Larry Fuegen.  Larry is among an elite group of makers of hand forged knives.  He is one of the 25 knifemakers that belong to the AKI (Art Knife Invitational).  Larry made his first knife in 1963, forged his first knives in 1975, and in 1987 became a full time bladesmith.  In that same year he received his American Bladesmith Society Journeyman rating, and subsequently received his Mastersmith rating two years later (1989).  The list of awards Larry has received for his work is too long to list.  Here, in his own words, is Larry's philosophy as relates to his craft...
"Over the years, I've remained true to my belief in soul authorship and the original concept of handmade.  All of the work on my knives, bits, spurs, and leatherwork is my own.  I hand forge my own blades from bar stock and make my own Damascus steel.  I do not use pre-made parts, but prefer to make each piece myself.  This is never the quickest or easiest route, but when I'm finished, I feel I've accomplished what I set out to do – making something truly unique and handmade.  I fieldwork, carve or engrave the blades, handles and fittings on my knives/spurs.  I do not use any computer operated tools, milling machine or metal lathes, and only the basic tools are in my shop: a drill press, band saw, 2 belt grinders, and one buffer.  Small hand tools are made as needed for special applications".
This Hunter was built in April 1995.  The knife will come with a COA signed by Larry, indicating the date, material construction, and story / features of Fuegen knives.  The blade was forged from 5160 high carbon steel, and the single finger guard is brass.  The highlight of the knife is the beautiful piece of Crown Stag that Larry used for the handle.  It is perfect!  Included with the knife is a tooled leather sheath, also made by Larry.  And it will all come in a padded, zippered case.  The knife
has been extremely well cared for, and stored properly.  It is in excellent, unused condition - I dare say it is in Near Mint Condition.  A little patina on the brass guard.
You will notice the marking "Y3" on the stag handle, backside of the sheath, and on the COA.  I do not know the significance of it, but what is on both the stag handle and sheath are "stickers".  They'll come right off.  In fact, the bottom part of the "Y" on the handle is has already come off.
Condition:  Previously owned.  Near Mint.
                  Never used, carried, or sharpened
Overall length:      8 1/8"

Blade length:        3 7/8"
Handle length:      4 1/4"