Larry Fuegen, M.S. Fighter, Carved Fossilized Material Handle, Sterling Silver Collar (SOLD)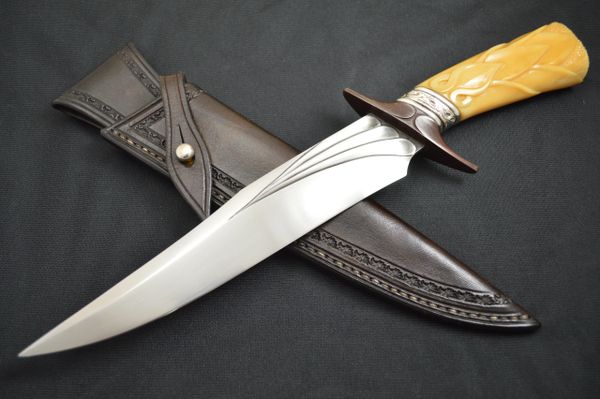 Larry Fuegen, M.S. Fighter, Carved Fossilized Material Handle, Sterling Silver Collar (SOLD)
This outstanding Fighter was crafted by Mastersmith Larry Fuegen.  Larry is among an elite group of makers of hand forged knives.  He is one of the 25 knifemakers that belong to the AKI (Art Knife Invitational).  Larry made his first knife in 1963, forged his first knives in 1975, and in 1987 became a full time bladesmith.  In that same year he received his American Bladesmith Society Journeyman rating, and subsequently received his Mastersmith rating two years later.  The list of awards Larry has received for his work is too long to list.  Here, in his own words, is Larry's philosophy as relates to his craft...
"Over the years, I've remained true to my belief in soul authorship and the original concept of handmade.  All of the work on my knives, bits, spurs, and leatherwork is my own.  I hand forge my own blades from bar stock and make my own Damascus steel.  I do not use pre-made parts, but prefer to make each piece myself.  This is never the quickest or easiest route, but when I'm finished, I feel I've accomplished what I set out to do – making something truly unique and handmade.  I fieldwork, carve or engrave the blades, handles and fittings on my knives/spurs.  I do not use any computer operated tools, milling machine or metal lathes, and only the basic tools are in my shop: a drill press, band saw, 2 belt grinders, and one buffer.  Small hand tools are made as needed for special applications".
This Fighter was commissioned by another Mastersmith / Collector approximately 10 years ago.  The knife's "theme" is a floral pattern, done to resemble the parts of a rose.  If you look at the knife with the point of the blade down, you will notice the carving on the blade, which was done to resemble the stem.  Next, as you work your way up the knife, you will see that the guard represents the thorns.  As you continue further, the carved handle, which is what Larry is known for, represents the leaves.  And finally, the butt cap represents the flower's bud.  By the way, as you worked your way past the thorns, you likely noticed the Sterling Silver collar.  Larry forged the blade from 1084 steel, and made the guard and butt cap from mild steel.  The handle is a solid piece of creamy butterscotch colored fossilized material, again, so expertly carved by Larry.
The knife absolutely melts in your hand.  The feel, weight and balance are superb.  You don't even have to know that there's a floral theme, to appreciate the amount of work and detail that went into crafting this piece.  This knife is a "one-of-a-kind".  Larry does not duplicate commissioned pieces.  This knife would surely be the centerpiece for any collector.  Windy City Knives was fortunate to acquire this knife directly from the original owner, who obviously received it directly from Larry.  It has been extremely well cared for, and stored properly.  The knife is in excellent, unused condition - I dare say it is in Mint Condition.
This is a rare opportunity to own one of Larry's art knives, without the wait.  And as if the knife itself wasn't enough, Larry did the leatherwork, and made a beautifully tooled sheath.  I will also include a padded, zippered case when it is shipped to the new owner.

Condition:  Previously owned. Mint Condition.
                    Never used, carried, or sharpened
Overall length:     13 3/4"

Blade length:        8 1/2"
Handle length:      5 1/4"