Lee Lerman HYDRA Bolster-Lock Flipper (SOLD)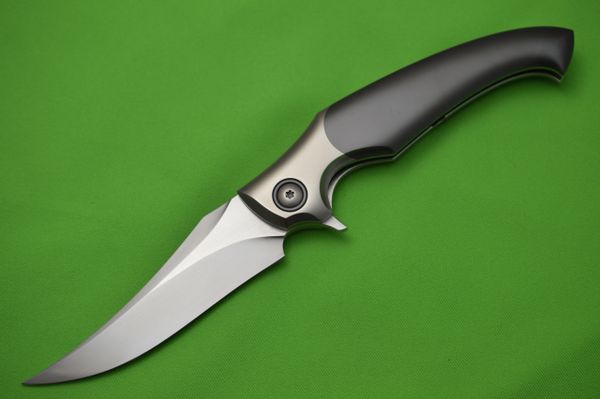 Lee Lerman HYDRA Bolster-Lock Flipper (SOLD)
Lee Lerman is a custom knifemaker from Netanya, Israel.  He designed his first knife at 15 years old, the Hydra.  However, he recognized his skills needed time to catch up to his ambition.  So, he decided to put the Hydra on hold and practice by making fixed blades.  With no moving parts to worry about, fixed blades made a great exercise to hone his machining skills before moving onto more complicated folding knives.  After more than five years of fixed blades, Lerman was ready to make the Hydra, and it has now become one of his most sought-after knife models.
Lee's knives are in high demand by collectors, and he has a years' long waiting list.  Little did he know that when he initially started collecting production knives, that his creative mind and passion for knives would lead him to becoming a full-time knifemaker.  Lee is self-taught and turned his hobby into a career in 2012 at age 23 and became a full-time knifemaker in 2014.  In that same year, at the Solingen Knife Show, he won the award for "Best Folding Knife".
Now 32 years old, there is nothing crude about his first custom folder, the Hydra.  According to Lee, the Hydra takes inspiration from many sources: super-cars, old Oriental and European knives, antique tools, and even the human form.  The end result is a knife that looks both timeless and purposeful.  These different facets gave the knife its name.  "The Hydra is right on the border between a modern tactical folder and a fantasy knife," says Lerman.  "What's more suitable for a name than a Greek serpent?"
The Hydra features a sweeping Persian-shaped, hand rubbed satin RWL-34 stainless steel blade at 61 HRC.  The bead blasted titanium frame handle features glass blasted Zirconium scales, floating backspacer and pivot collar, and a bead blasted titanium tip-up mounted pocket clip with hidden hardware.  Lee's attention to detail and his fit-and-finish are that of a well-seasoned knifemaker.  He has the keen eye of a jeweler.  The knife is a bolster-lock flipper running on bearings, making deployment quick, smooth and with authority.  Nice detent, rock solid early lock-up, and perfect blade centering.  Included with the knife is a Lerman brown leather zippered pouch and a signed Certificate of Authenticity.  The knife was born 10/29/2020 and is knife number 209 Hydra 63.  Hand etched on the inside of one of the liners is "209 H 63 L. Lerman" and on the inside of the other liner is etched "2020".  It was pictured in the 42nd Edition of Knives 2022, as seen in the last photograph.


Condition:  Previously owned.  Excellent condition
                    Never used, carried or sharpened
Overall length:  9 3/4"
Blade length:    4 1/4"
Closed length:  5 1/2"