Les George, Allen Elishewitz Cerberus Frame Lock Flipper (SOLD)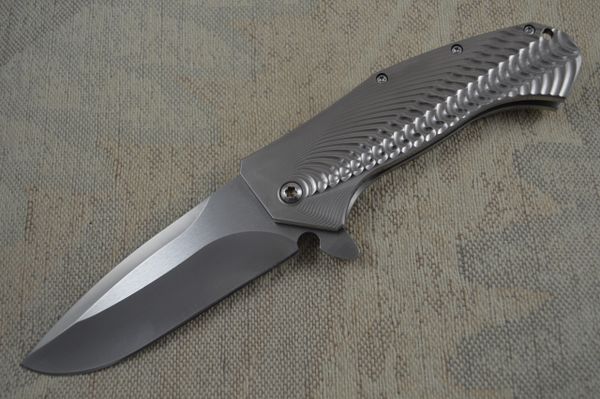 Les George, Allen Elishewitz Cerberus Frame Lock Flipper (SOLD)
This Cerberus frame lock flipper is the collaborative work of Les George and Allen Elishewitz. It features a 154CM satin finished stainless steel blade, and titanium scales with matching machined pattern on both sides of the handle scales. The satin finished blade sports a dropped spear point grind. The clip is Timascus, and set for tip up carry. However, there are pre-drilled holes to flip the clip for tip down carry. The spacers are titanium barrel-type, and the handle has a lanyard hole. The knife is marked by both Elishewitz and George, inside the handle frame. We have attempted to capture both makers' marks in the included pictures. The knife exhibits beautiful flipping action, strong detent, excellent blade seating, and rock solid lock-up - no wobble or blade play in any direction. The frame lock handle has an easy lock release, as well. This knife was previously owned, and is in Near Mint Condition. There is an extremely fine spider web line towards the tip of the blade on the non-lock side. Sometimes you see it, and sometimes you don't. Otherwise, it is perfect. As with all of our knives, it will come in a padded zippered case when shipped.
Condition:
Previously owned, Near Mint Condition (as described)
Never used, carried or sharpened
Overall length: 9 1/4"

Blade length: 4 1/4"

Closed length: 5"