Les Voorhies Pearl Gent's Liner Lock Folder (SOLD)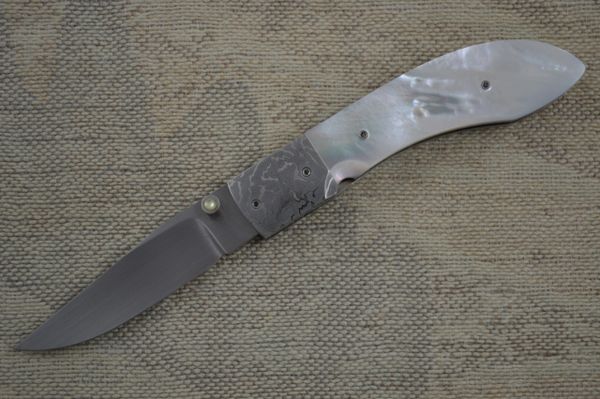 Les Voorhies Pearl Gent's Liner Lock Folder (SOLD)
Les Voorhies is an incredibly talented custom knifemaker from Minnesota who makes balisongs, flippers, high-end art folders, and some fixed blades. He started making knives part-time in 1994, and is now a full-time maker. For all you collectors of Les' work, this is an early example of one of his art folders. The blade is marked with his early maker's mark, Boa Custom. It is a classy gent's liner lock folder featuring two perfectly matched exquisite Mother of Pearl scales pinned in two places, mokume bolsters, hand-rubbed satin finish stainless blade, file-work the length of the spine of the handle, and a pearl inset in the thumbstud. It locks up tight with no blade play.
Condition:
Previously owned. New.
Never used, carried, or sharpened
Overall length: 6 1/2"
Blade length: 2 3/4"
Closed length: 3 3/4"