Luke Swenson 3-Blade Lock-Back Whittler, Jigged Bone, Blade Show 2019 (SOLD)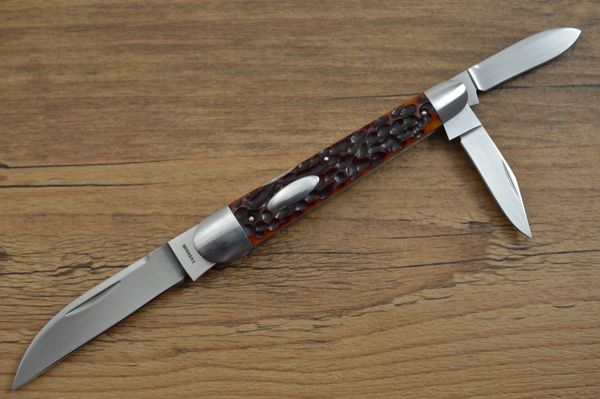 Luke Swenson 3-Blade Lock-Back Whittler, Jigged Bone, Blade Show 2019 (SOLD)
Luke Swenson has been making knives for over 7 years.  He has truly taken his knifemaking skills to the next level.  He has become a master in his own right at making slip-joint folders.  As evidenced by this Amber Dyed Random Red Jigged Bone Lock-Back Whittler, Luke has accomplished what many slip-joint makers prefer not to build.  The 3-blade Lock-Back Whittler is one of the most challenging knives to make.  Only a select few 
knifemakers would even attempt to build this design - and Luke is now one of them.  And he has pulled this off beautifully - it is perfect!
All the blades are CPM-154 steel.  The main Wharncliffe blade is the lock-back, and the smaller Spear Point and Clip Point blades are both slip-joints.  The design, and the way the blades fit together requires amazingly tight tolerances.  The intricacies of the locking mechanism fitting with the liners and blades, takes days to assemble properly.  The front and rear bolsters are 416 stainless steel spot welded to 410 stainless steel, and are integral to the liners.  The pins and oval shield are also 416 stainless steel.  The scales are nicely executed pieces of what Luke described as Amber Dyed Random Red Jigged Bone.  Luke has even "jeweled" the inside of the liners.  This knife is Brand New and direct from Luke' at the 2019 Blade Show.  All the blades lock up tight with no play, and the blade seating of each is spot-on.  The two smaller blades have half stops - the main blade obviously does not.  Nice large nail nicks all the way around, and the two small blades have smooth, easy pulls.  The main blade opens smooth as butter.  Comes in a padded zippered Swenson Knives case.

Condition:  New from the Maker
Blade length (Wharncliffe):        2 3/4"

Blade length (Clip and Spear):   1 3/4"
Closed length:                             4"