Luke Swenson 3-Blade Stockman, Fossilized Scales, Slip-Joint Folding Knife (SOLD)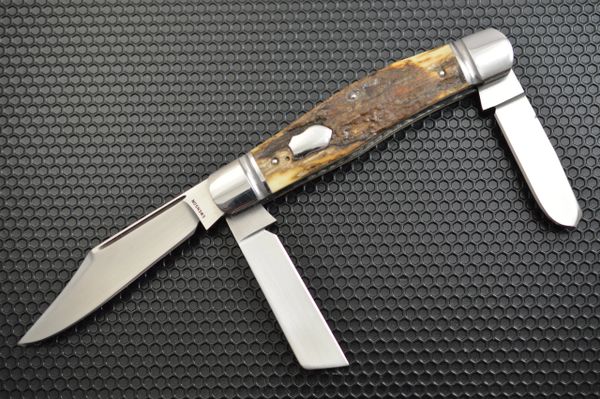 Luke Swenson 3-Blade Stockman, Fossilized Scales, Slip-Joint Folding Knife (SOLD)
Luke Swenson has been making knives for nearly 10 years.  He has truly taken his knifemaking skills to the next level.  He has become a master in his own right at making both slip-joint and lock-back folders.
This three-blade Stockman features a Clip Point blade, a Sheepsfoot blade, and a Spey blade, that are all hand-rubbed CPM-154 stainless steel.  All the blades have half stops.  The clip point blade has a long pull, and the other blades have ample nail nicks, all with firm, smooth pulls.  The scales are beautifully mated and stunningly textured fossilized material.  The fluted bolsters, pins and Federal shield are all 416 stainless steel.  Luke has "hammered" the 416 stainless steel outer liners and done some very tasteful file-work of the center liner, visible both on the spine and the inside of the handle.  Luke's tolerances, and fit and finish are outstanding.  Luke has stamped "SWENSON" in caps, on the ricasso of the clip point blade.  All the blades lock up tight with no play, and the blades are perfectly seated within the well of the handle.  Luke does the "walk-and-talk" like very few can.  This is a one-owner collector knife, in excellent condition.  Comes in a padded, zippered Swenson Knives case.

Condition:  One previous owner
                     Never used, carried or sharpened
Clip Point Blade length:       2 7/8"

Sheepsfoot Blade length:    2 1/8"
Spey Blade length:              2"
Closed length:                     4 1/8"