Luke Swenson Damascus 2-Blade Jigged Bone Dog's Head Trapper (SOLD)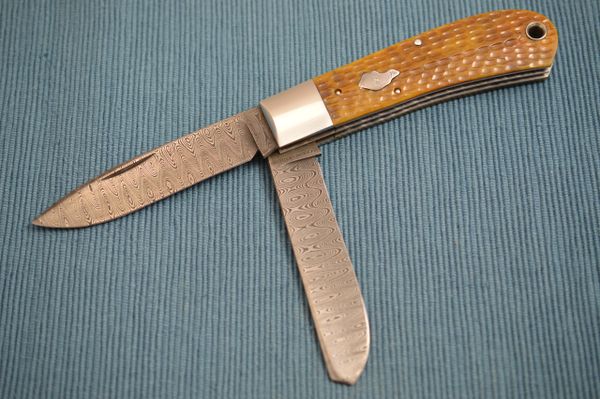 Luke Swenson Damascus 2-Blade Jigged Bone Dog's Head Trapper (SOLD)
Luke Swenson has been making knives for over 10 years.  He has truly taken his knifemaking skills to the next level.  He has become a master in his own right at making both slip-joint and lock-back folders.
This is Luke's large 2-blade Damascus Dog's Head Trapper.  It is new and direct from Luke's table at the 2021 Blade Show.  It features a Damascus drop point blade and spey blade, both made by Master Smith Shayne Carter.  The Dog's Head shield is also Shayne Carter Damascus.  The scales are amber dyed, jigged cow bone, done by Luke.  The micarta scales were "roofline jigged", to resemble what is also known as "Ka-Bar Micarta".   You can see a ridge running down the center line of the scales.  The Dog's Head Trapper happens to also be a pattern made by Ka-Bar in Olean, NY.  The springs are hand-rubbed CPM 154.  The bolster is 416 stainless steel, and are integral to the 416 stainless steel outer liners.  The center liner is 410 stainless steel.  The pins and lined lanyard hole are also 416 stainless.  The blades have comfortable nail nicks, with firm, smooth pulls.  The blades lock up tight with no play, and the blade seating is centered between their respective liners.  Both blades have half stops.  Nice walk and talk.  Comes in a padded, zippered Swenson Knives case.

Condition:  New from the Maker
Overall length:        8 1/4"

Drop Point Blade:   3 3/4"
Spey Blade:            3 3/4
Closed length:         4 1/2"