Luke Swenson Lock-Back Stag Trapper, Blade Show 2019 (SOLD)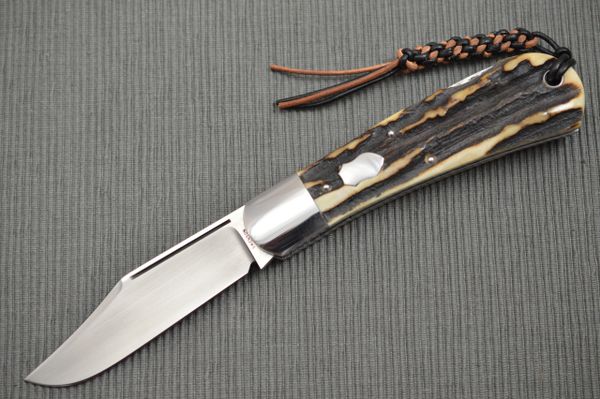 Luke Swenson Lock-Back Stag Trapper, Blade Show 2019 (SOLD)
Luke Swenson has been making knives for over 8 years.  He has truly taken his knifemaking skills to the next level.  He has become a master in his own right at making slip-joint and lock-back folders.
This gorgeous, outstanding Lock-Back Trapper features a CPM 154 stainless steel blade, and 416 stainless steel pins, bolster, Federal shield, and Integral liners with file-work.  The scales are what sets this knife off.  Luke has used some outstanding Natural Stag, with rich color and texture - much more impressive in-hand.  Luke's included a braided leather lanyard, as well.  This knife is Brand New and direct from Luke at the 2019 Blade Show.  The blade has a long, comfortable nail nick, with a smooth pull.  The blade locks up tight with no play, and the blade seating is dead centered.  No half stop.  Nice walk and talk.  Comes in a padded, zippered Swenson Knives case.

Condition:  New from the Maker
Overall length:   7 1/4"

Blade length:     3 1/8"
Closed length:   4 1/4"