Luke Swenson Long Pull Lock-Back Folding Knife, Bourbon Dyed Jigged Bone Scales (SOLD)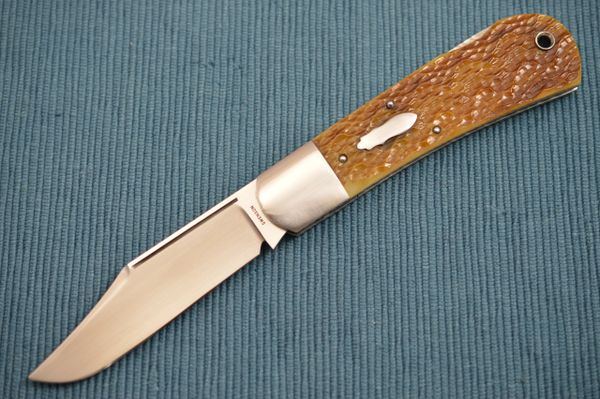 Luke Swenson Long Pull Lock-Back Folding Knife, Bourbon Dyed Jigged Bone Scales (SOLD)
Luke Swenson has been making knives for over 9 years.  He has truly taken his knifemaking skills to the next level.  He has become a master in his own right at making slip-joint and lock-back folders.
This Swenson Long Pull lock-back folding knife is a real beauty.  It is Brand New and just received directly from Luke.  It features a CPM 154 stainless steel hollow ground clip point blade, hand-rubbed to a 600 grit satin finish.  The spring and lockbar are also CPM 154, hand-rubbed to the same 600 grit finish.  The liners are integral to the bolster, both being made from 416 stainless steel.  The liners are mill relieved, jeweled and file-worked.  The lanyard tube and pins are also 416 stainless steel.  The scales are Bourbon dyed Catalina Jigged Bone from Culpepper and Co., and feature a bombshell shield on the presentation side.  As the name of the knife implies, the blade has a long, comfortable nail nick, with a smooth pull.  The blade locks up tight with no play, and the blade seating is centered.  No half stop (obviously).  Nice walk and talk.  Comes in a padded, zippered Swenson Knives case.

Condition:  New from the Maker
Overall length:   7 3/8"

Blade length:     3 1/8"
Closed length:   4 1/4"