Mark Banfield Forged Fighter, Hamon, Carved Textured Fullers, Bog Oak Handle (TRADED)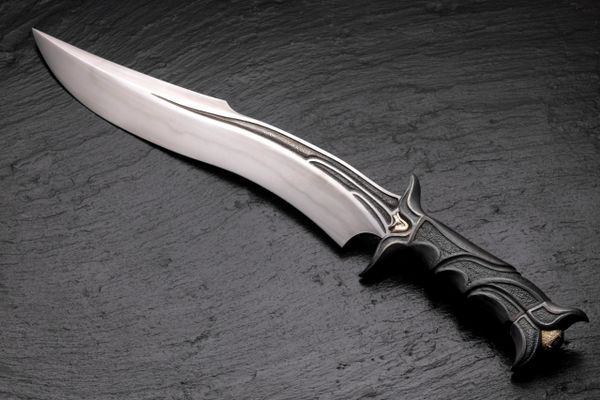 Mark Banfield Forged Fighter, Hamon, Carved Textured Fullers, Bog Oak Handle (TRADED)
"Every knife I make is a one of a kind. I take much time in producing each one. I rely on skills and not technology. But I do have basic power tools like drill press, belt sanders,etc. My gas forges are all homemade. I have one stand up forge for general forging and Damascus. I have several small forges for small stuff and one long horizontal forge with 2 burners. I can use either 1 or 2 burners depending on the blade length. This is the forge I use for heat treating. Just about all of my knives are hand sanded. Every knife is forged unless I specifically say otherwise. My Damascus is hand forged. Most carbon steel blades I make have a clay heat treat. My knives are forged first, then rough ground, filed and heat treated. I then refine the blade by belt sander. Then it is hand sanded. I often put a lot of carving and texturing on my guards and handles. Sometimes I have to make a special tool to get the look I want. I prefer to make daggers and fighters,but also like the odd Bowie,or hunter. I love the weapons of the Celts, Vikings and Anglo Saxons, but rarely make any. I like to make knives that are unique. Generally I don't make any Japanese style stuff, or tactical stuff, but I plan on making the odd one eventually.
For blades I prefer 1084 and 1095, also 1075. 5160 is a great steel too that I use occasionally. For Damascus I prefer the mix of 1084 and 15N20.

For guards I usually prefer wrought iron or cast bronze. But I also use nickel silver, blued steel and stainless.
For handles I prefer natural materials. Exotic hardwoods being my favorite."
Mark Banfield calls Bay L'Argent Newfoundland and Labrador Canada home.  This is one of Mark's large Fighters.  It features a forged harpoon shaped recurve blade made of 1084 steel.  The blade sports a very visible and well-defined hamon.  Mark has also carved and textured the fullers of the blade.  The handle is made from ancient Bog Oak, and it is also carved and textured.  The fittings are wrought iron, and they have also been carved and textured.  There are brass inserts at the guard and butt cap.  The butt cap also has a dark brown colored gem stone inset in the tines.  The knife is nicely weighted and balanced, and feels great in-hand.  Mark marks the blade with "MB".  A great deal of work, time, materials, and craftsmanship went into building this knife.  Included is a custom tooled leather sheath with a metal plate at the tip, also made by Mark.  The knife is in excellent, to near mint condition.  There are a couple of very faint wispy lines, from insertion into the sheath.  This knife is on consignment.  The owner purchased the knife directly from Mark.  All photographs were done by Mitchell Cohen of Prairie Digital Photography.

Condition: Previously owned. Near mint.
                   Never used, carried or sharpened
Overall length:      18 1/2"

Blade length:         12 3/4"
Handle length:      5 3/4"
Weight:                 1 pound 8 ounces