Masao Takahashi Stag Fighting Knife and Leather Sheath (SOLD)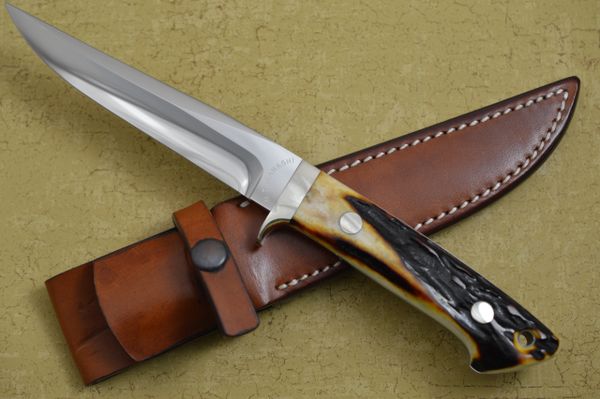 Masao Takahashi Stag Fighting Knife and Leather Sheath (SOLD)
Japanese knifemaker Masao Takahashi was known for his super clean work and mirror polished blades.  You'll see from the photos how difficult it was to capture the pristine finish on the highly reflective blade.  He was a true student of Bob Loveless' style of knives.  Sadly, Masao passed away in February of 2013.  His knives are highly coveted by collectors, and have become increasingly more difficult to find in the secondary market.
This Fighting Knife features a mirror polished blade of ATS-34, with a tapered tang.  The handle scales are two (2) beautifully matched amber stag scales, with a single finger guard.  The guard and oversized pins are polished nickel silver.  There is also a nickel silver lined lanyard hole.  The contour of the stag and guard make it incredibly comfortable and secure in-hand.  The knife is in previously owned, near mint condition.  There are some fine sheath lines on the guard and pins from insertion and removal of the knife into the sheath.  The blade is perfect, as is the stag.  It has never been used, carried or sharpened.  Comes with the leather belt sheath, as pictured, also made by Masao.


Condition:  Previously owned. Near Mint condition
                    Never used, carried or sharpened
Overall length:      9 1/2"

Blade length:        5"
Handle length:      4 1/2"