Medford Knife and Tool DRESS MARAUDER, Blue Anodized Titanium Handle, Satin Blade (SOLD)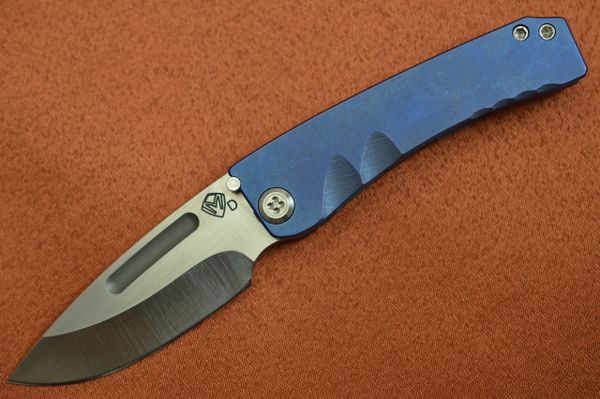 Medford Knife and Tool DRESS MARAUDER, Blue Anodized Titanium Handle, Satin Blade (SOLD)
This frame-lock Dress Marauder is brand new and direct from Medford Knife and Tool. Windy City Knives is a proud member of the MKT authorized dealer network. The knife features a D2 satin finished drop point blade, with a full titanium handle that has been anodized blue. This delicate beauty is definitely geared towards the more gentlemanly crowd. It's a great upscale, classy carry for when you are dressed up and going out on the town. The knife has centered blade seating and rock solid lock-up. The knife has a strong detent. For one-handed opening instructions from Greg Medford, you can refer to his YouTube video...The Low Down On One-Handed Opens.

Comes packaged in a Medford Knife and Tool hard shell plastic case with metal dog tag, instruction sheet, bubble packaging, and Medford cardboard box. Please note that MKT ships their knives coated with a bit of oil. It may be evident in some of the pictures.
Condition: Brand new from the maker.
Overall length: 5 3/4"

Blade length: 2 1/2"

Closed length: 3 1/4"