Medford Knife and Tool Flamed Blue NOSFERATU Auto Folder (SOLD)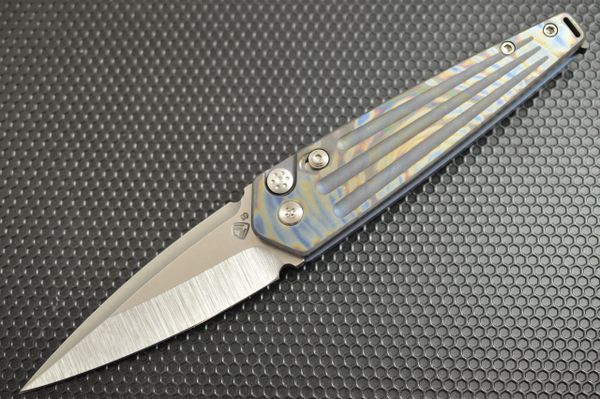 Medford Knife and Tool Flamed Blue NOSFERATU Auto Folder (SOLD)
Medford describes the Nosferatu Auto as a one-of-a-kind auto that sports a CPM S35VN blade and full titanium chassis with a hard-anodized aluminum breaker.  This Nosferatu features a standard grind, tumbled spear point blade with a false top edge.  This presentation side is flamed blue, and the clip side is anodized blue.  I was told that this was a special order, as "flamed" is not an upgrade option on the MKT website.  The knife also features a standard tip-up mounted pocket clip, standard hardware and a black G10 backspacer.  The Nosferatu is a push button auto, with a sliding safety.
This knife comes from a one-owner collection.  It is brand new, in mint condition.  It is unused and has never been carried or sharpened - only handled.  The blade fires strong and smooth, locks up tight, and the blade sits dead center in the frame when closed.
The knife will come packaged as-new, with the Medford Knife and Tool tan hard shell plastic case with metal dog tag, in the Medford carboard box.  Included with the knife are the Warranty, Care and Maintenance pamphlet and three (3) stickers.  Everything can be seen in the last photo.
Condition: Previously owned.  Mint
                 Never used, carried or sharpened
Overall length:    8 3/8"

Blade length:      3 1/2"

Closed length:    4 7/8"
NOTE: Please be aware of your local and state laws regarding ownership and carry of an automatic knife.  If you live in the state of Illinois, you MUST send Windy City Knives a copy of your FOID (Firearm Owners Identification Card) by email or text, PRIOR to making your purchase.  Thank you in advance for your cooperation and understanding.