Medford Knife and Tool Flipper FUK, Tumbled D2 Blade, Bronze Anodized Sculpted Titanium Handle (SOLD)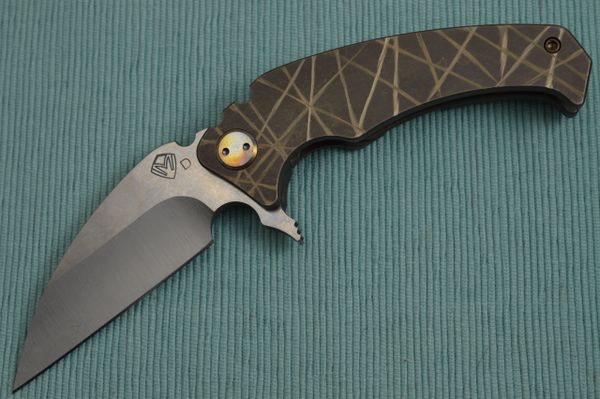 Medford Knife and Tool Flipper FUK, Tumbled D2 Blade, Bronze Anodized Sculpted Titanium Handle (SOLD)
From the MKT website: For those of you who want the ultimate utility knife in an even smaller package, and the ability to flip it open, then this is the knife for you!! A fantastic blade for Close Quarters Battle and heavy utility work, the unique angle and geometry of the FUK gives it many of the advantages of a Karambit, in either the forward or reverse grip, and great mechanical advantage for everyday utility. This small but ever capable design conceals well and feels like an extension of the hand when held. This knife is the perfect companion piece to its fixed counterpart.
This Flipper Fighting Utility Knife (FUK) is a discontinued model. However, this one is brand new and recently received from Medford Knife and Tool. Windy City Knives is a proud member of the MKT authorized dealer network. The knife features a 0.260" thick D2 steel Wharncliffe style blade, with a tumbled finish. The handle is full titanium (0.187" thick slabs), that has been anodized bronze, with Special Custom Sculpting done on both the presentation side and the lock side. The knife has excellent blade seating and solid lock-up. The knife has a firm detent, and requires a little wrist action to flip it.

Comes packaged in a Medford Knife and Tool hard shell plastic case with metal dog tag, instruction sheet, bubble packaging, and Medford cardboard box. Please note that MKT ships their knives coated with a little oil. It may be evident in some of the pictures.
Condition: Brand new from the maker.
Overall length: 7 3/4"

Blade length: 3 3/8" (3" cutting edge)

Closed length: 4 3/4"