Medford Knife and Tool MARAUDER, Tumbled PVD Tanto Blade, Flamed Clip and Hardware (SOLD)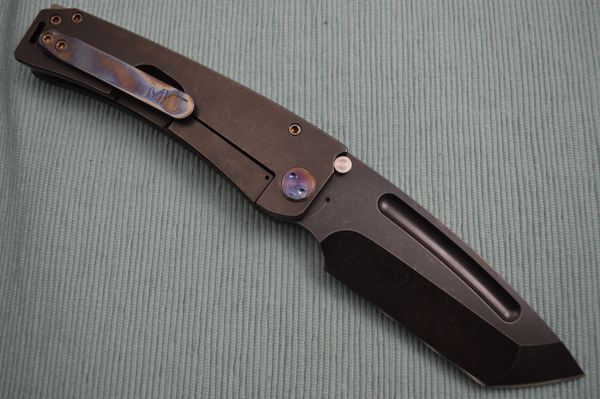 Medford Knife and Tool MARAUDER, Tumbled PVD Tanto Blade, Flamed Clip and Hardware (SOLD)
The Marauder is a mean design that utilizes the awesome tip strength of the Flat-Grind and the tried and true performance of a Hollow-Ground main cutting edge. This Combo ground knife has a function driven form that is unique in the Knife world. The clean lines of the knife are self-evident and in this case, less is more. Note the curved Fuller-groove that doubles to not only lighten the forward weight of the design but also as a sneaky thumb-slide groove for opening. The sides are 0.187" Titanium and the blade is 0.260" thick. This design gets its name from the A-26 Marauder of WW II repute. The Marauder was known for awesome fire-power and brute force toughness in battle.
This full-size Marauder is brand new and direct from Medford Knife and Tool. Windy City Knives is a proud member of the MKT authorized dealer network. The knife features a D2 tumbled PVD coated Tanto blade, with a titanium handle and backspring. Both the handle and backspring are also tumbled PVD coated. The knife also features both a "Flamed" clip, and hardware. And includes a D2, NP3 coated tempered-glass breaking pommel. The knife has excellent blade seating and solid lock-up. The knife has a strong detent. For one-handed opening instructions from Greg Medford, you can refer to his YouTube video...The Low Down On One-Handed Opens.

Comes packaged in a Medford Knife and Tool hard shell plastic case with metal dog tag, instruction sheet, bubble packaging, and Medford cardboard box. Please note that MKT ships their knives coated with a little oil. It may be evident in some of the pictures.
Condition: Brand new from the maker.
Overall length: 9 1/4"

Blade length: 4 1/4"

Closed length: 5"