Medford Knife and Tool MIDI MARAUDER, Custom Sculpted and Anodized Titanium Frame (SOLD)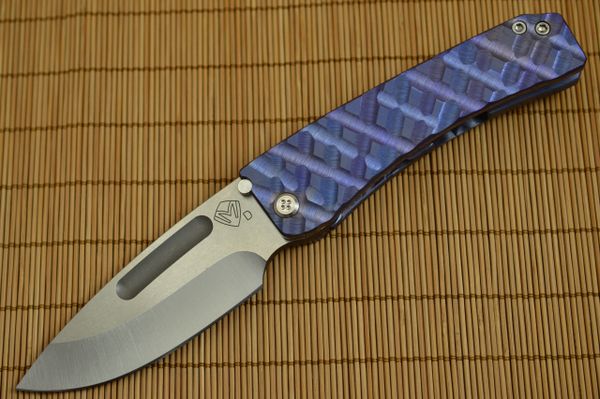 Medford Knife and Tool MIDI MARAUDER, Custom Sculpted and Anodized Titanium Frame (SOLD)
Due to the overwhelming popularity of the standard-sized Marauder, the Midi was born.  The clean lines of the larger version translate exceedingly well into this, and the smaller Dress model.  This sexy adaptation comes with new button-head pivot screws and Titanium handles with double grooves.  In typical Medford fashion, this overbuilt beefy folder is surprisingly lightweight and an all-around easy every day carry.  The Midi comes only in Drop Point and sans breaker. 
This Midi Marauder is brand new and direct from Medford Knife and Tool.  Windy City Knives is a proud member of the MKT authorized dealer network.  The knife features a D2 steel tumble-finished drop point blade, and a special order, custom sculpted, cross-hatch pattern, titanium handle and spring that has been anodized a purplish blue (depending upon how the light catches it).  The knife has dead center blade seating and rock solid lock-up.  The knife has a strong detent.  For one-handed opening instructions from Greg Medford, you can refer to his YouTube video...The Low Down On One-Handed Opens.

Comes packaged in a Medford Knife and Tool hard shell plastic case with metal dog tag, instruction sheet, bubble packaging, and Medford cardboard box.  Please note that MKT ships their knives coated with a little oil.  It may be evident in some of the pictures.
Condition: Brand new from the maker.
Overall length:   7 7/8"

Blade length:     3 1/2"

Closed length:   4 3/8"