Medford Knife and Tool PANZER, Sculpted Anodized Titanium Handle, Vulcanized D2 Blade (SOLD)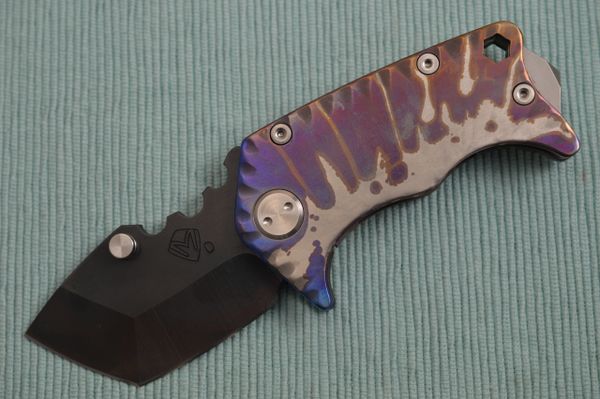 Medford Knife and Tool PANZER, Sculpted Anodized Titanium Handle, Vulcanized D2 Blade (SOLD)
From the MKT website: "The Panzer is the first in our series of smaller but exceedingly stout folding knives. We named it the German for "Tank" for obvious reasons. This is a compact tanto that is small enough to be out of the way when carried yet tough and capable when needed. The blade is .190" D2 and the handles are 1/8" Ti and G10 or you can opt for all Titanium."
This frame-lock Panzer is brand new and direct from Medford Knife and Tool. Windy City Knives is a proud member of the MKT authorized dealer network. The knife features a D2 Vulcanized matte black Tanto blade, and Sculpted full Titanium frame with a cool looking "oil drip" anodized finish. There is some very aggressive jimping on the blade spine, giving it great feel and control in-hand. There is a NP3 coated backspacer / pommel / glass breaker. The knife has excellent blade seating, and solid lock-up. For one-handed opening instructions from Greg Medford, you can refer to his YouTube video...The Low Down On One-Handed Opens.
Comes packaged in a Medford Knife and Tool hard shell plastic case with metal dog tag, instruction sheet, bubble packaging, and Medford cardboard box. Please note that MKT ships their knives coated with oil. It may be evident in some of the pictures.
Condition: Brand new from the maker.
Overall length: 6"

Blade length: 2 1/2"

Closed length: 3 1/2"
Weight: 6 oz