Medford Knife and Tool VIPER Flipper, 0.25" Thick D2 Tumbled Blade, Anodized Frame (SOLD)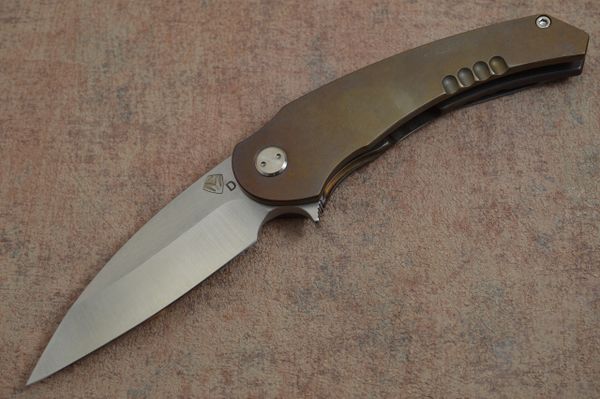 Medford Knife and Tool VIPER Flipper, 0.25" Thick D2 Tumbled Blade, Anodized Frame (SOLD)
The Medford Viper, frame-lock flipper, takes its name and attitude from the venomous Vipers of the Animal Kingdom, and one of the world's air superiority fighters.  Like both beast and machine the Viper is fast, lethal and has the looks and performance to back it up.  Extreme precision machining and hand fitting allow MKT to get bearing-like performance and fluidity from rock solid, large surface area phosphor-bronze bushings.
The Viper is a discontinued model from MKT.  This Viper came to us from a collection.  It is unused, and has never been carried or sharpened - only handled.  The Viper typically retails for $950.  The knife features a 0.25" thick D2 steel tumble finished drop point blade, with a bronze anodized full titanium handle and spring (lock side).  Both the clip and hardware are titanium, as well.  The knife has centered blade seating, solid lock-up, and flips strong with a little flick of your wrist. 
The knife will come packaged in a Medford Knife and Tool hard shell plastic case with metal dog tag, specification tag, Care and Maintenance sheet, and Greg Medford's card.  It will be bubble wrapped, as well.  The knife is in excellent condition.  The anodization on the frame is not uniform.  It has faded in spots, as a result of handling.  This would make a great EDC.
Condition: Previously owned.  Excellent.
                 Never used, carried or sharpened
Overall length:   9 5/8"

Blade length:     4 1/8"

Closed length:   5 1/2"