Medford MARAUDER Polished Blade, Bronze Anodized Frame-Lock Folding Knife (SOLD)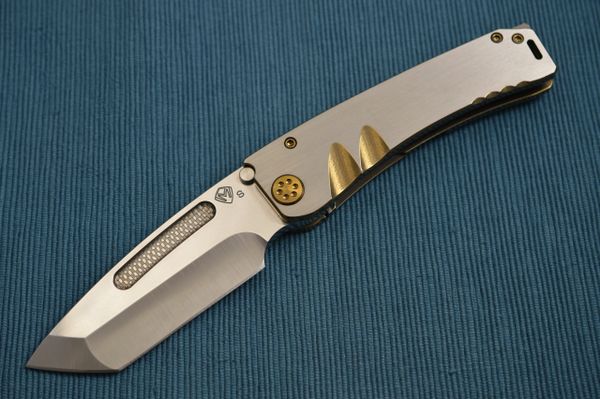 Medford MARAUDER Polished Blade, Bronze Anodized Frame-Lock Folding Knife (SOLD)
The Marauder is a mean design that utilizes the awesome tip strength of the flat-grind and the tried-and-true performance of a hollow-ground main cutting edge.  This combo ground knife has a function driven form that is unique in the knife world.  The clean lines of the knife are self-evident and, in this case, less is more.  Note the curved fuller-groove that doubles to not only lighten the forward weight of the design but also as a sneaky thumb-slide groove for opening.  Each side of the frame is 0.187" thick Titanium, and the blade is 0.260" thick.  This design gets its name from the A-26 Marauder of WW II repute.  The Marauder was known for awesome fire-power and brute force toughness in battle.  This is a no-nonsense knife.  An overbuilt bruiser for any job.
The knife features a Tanto-style S35VN PVD stainless steel blade, with a polished finish and "checkerboard" etched fuller.  The number "106-048" is stamped on the ricasso of the lock side.  This is a Medford control number.  The same number is stamped on the inside of the presentation side of the frame.  The titanium frame is tumbled in-house by Medford, resulting in a very fine satin finish that almost looks polished/smooth.  The entire edge around the perimeter of the handle is anodized bronze.  The tip-up mounted pocket clip, pivot, cut outs, stand-off and hardware all have the same bronze anodization.  The tempered glass breaking pommel / lanyard is standard NP3 coated.

This knife comes from a one-owner collection.  It is brand new, in mint condition.  It is unused and has never been carried or sharpened - only handled.  The blade has good detent, locks up tight, and the blade sits dead center in the frame when closed.  The knife is not a flipper or flicker.  Although it can be opened with one hand.  It will come packaged as-new, with the Medford Knife and Tool tan hard shell plastic case with metal dog tag, in the Medford carboard box.  Included with the knife are the Warranty, Care and Maintenance pamphlet, three (3) stickers, hook-and-loop cushioned patch and Certificate of Creation and Authenticity.  Everything can be seen in the last photo.
Condition: Previously owned. Mint
Overall length:   9 1/4"

Blade length:     4 1/4"

Closed length:   5"
Weight:              10.6 ounces