Michael Zieba Brooklyn Made S-2 Mini Frame-Lock Flipper, 24K Gold (SOLD)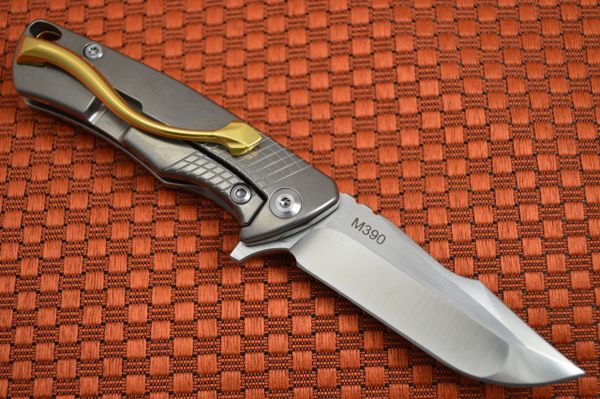 Michael Zieba Brooklyn Made S-2 Mini Frame-Lock Flipper, 24K Gold (SOLD)
This is Michael Zieba's, Brooklyn Made, model S-2 Mini frame-lock flipper. It is brand new, and acquired directly from Michael. It features an aggressive harpoon-shaped blade made from M390 steel. The blade flips effortlessly without any wrist action, credited to the Caged Internal Bearing System. The handle / frame is full titanium, with a stonewashed finish. The frame-lock incorporates a hardened steel, replaceable lock face. The nearly full length backspacer and Devil Tail pocket clip are both overlayed with 24K Gold. The pocket clip affords deep pocket carry, and the backspacer is slightly raised above the frame for better grip retention. This is a classy, gentleman's flipper - the perfect size for pocket carry almost anywhere. Michael's fit and finish is second to none. It will ship in the leather padded, zippered case provided by Michael. How many knifemakers do you know who provide custom leather cases? It will also come with a Certificate of Authenticity, signed by Michael.
Condition: New from Maker
Overall length: 6 1/4"




Blade length: 2 3/4"




Closed length: 3 1/2"