Michael Zieba Custom Master Chef Knife, 9.125" CPM-S60V, Curly Spalted Maple Handle (SOLD)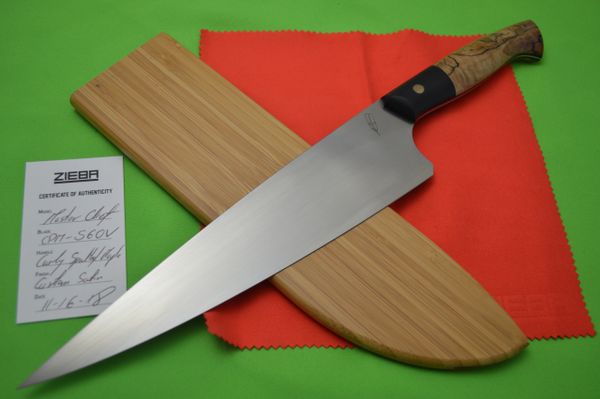 Michael Zieba Custom Master Chef Knife, 9.125" CPM-S60V, Curly Spalted Maple Handle (SOLD)
This Michael Zieba Custom Master Chef Knife is built for professional chefs, as well as those who like to cook at home with a passion.  Michael made this chef knife to be the center of the kitchen, and to last a lifetime.  The ergonomics will have you using this knife more often than any other, in your kitchen arsenal.  This is a chef knife that will grab the attention of anyone.  The design and construction are top shelf.
The knife features a flat ground, custom satin finished CPM-S60V stainless steel blade with Michael's feather logo, and a Curly Spalted Maple handle with black G10 bolster.  The knife is well-balanced, and only weighs about 8 ounces.  The knife comes in Michael's wooden sheath with a magnetic guide built-in.  The magnet grabs the blade as soon as you begin to insert it into the sheath, guiding you the rest of the way.  Also included with the knife and sheath are a red Zieba polishing cloth, signed Certificate of Authenticity, and padded zipper storage case.  This knife was previously owned, and is in new and unused condition.  It is ready for the holiday season.  It would also make a great gift for the chef in the family.  Michaels' grinds are amazing.  This knife is razor sharp!
Condition:  Previously owned.  New.
                  Never used, carried or sharpened
Overall length:   14 1/8"




Blade length:      9 1/8"




Closed length:    5"